Let's talk family photos, shall we? My family and I just took family photos for the very first time this month. My son just turned two and I thought it was high time that we get some nice photos of the three of us together! We were already planning on taking my son for his birthday pictures so I thought my husband and I could jump in on some of the photos and kill two birds with one stone. Here's the thing though, family photos taken with a saucy two year old are NOT easy. In fact, it turned out to be a much bigger challenge than I thought. My son decided to turn into a holy terror the second we stepped in front of the camera. I'm not just saying this, but my son really is a very well behaved toddler. The problem is, he has way more energy than he probably needs, he doesn't like to stand still and pose too often, and sometimes he misbehaves. They all do.
Luckily for us, one of my sweet friends just so happens to be an amazingly talented photographer. As a double bonus, she also happens to be a seasoned mom of three, so she knows all about kids and she didn't even blink an eye when my son was throwing his arms up in the air screaming. Bless her heart. She told me something very interesting- "It's all about the in between moments." And boy, was she right. See this photo down below? I bet you'd never guess that this was one of those in between moments where my son paused his fussing for literally one second.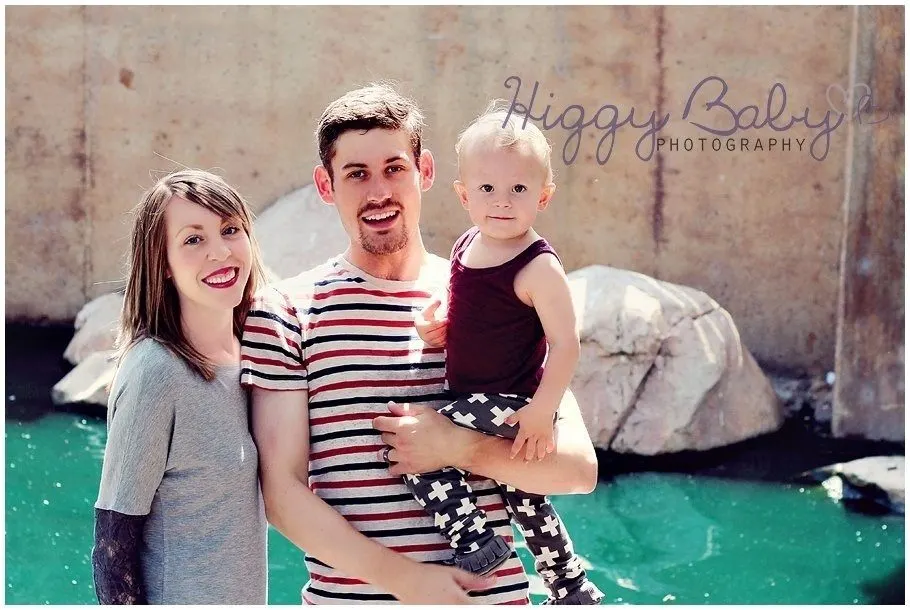 In order to do family photos right, the most important thing is that you have someone amazing do your photographs. In our case, it was enlisting the help of my friend to take on the hard job. Here's another thing, most kids aren't going to do well posed in a small studio. That worked when my son was a baby but it sure as heck wouldn't work now. My photographer friend suggested we do the photos outdoors and I'm so glad she did. My son got to run around the park while we followed him and she snapped great shots in those "in between moments" I talked about. I still can't believe how many amazing shots she got.
An important thing to factor into your family photos is wardrobe. Make sure your clothes don't have big logos all over them or it will take away from the photos. Be sure to stay away from overly trendy pieces, too as these will really make your photos seem dated in the future. This means don't choose floral skinnies or a crazy trendy hat. Solid, basic outfit choises always work best. Your whole family certainly doesn't need to match but tying everything together to get one overall cohesive look is your best bet. If you are stumped, ask your photographer! Chances are they will have a lot of good suggestions for you.
Parents, make sure your children are well rested for their photos and don't forget to schedule photos around nap times so your child isn't overly tired when photo time rolls around. My husband and I found that the easiest thing to do was pose around our son. We had constant smiles on our face so that we would be camera ready anytime my son decided to smile and look at the camera at the same time.
Don't stress it. I went into our family photo shoot relaxed and hoping for the best. I figured all I could do was my best, and hope that my son cooperated at least enough for a few decent shots. Guess what? Photographers know that kids misbehave. They are prepared for it. They are experts and you'll get amazing shots if you leave it in their hands.
I'm so happy we were finally able to do a family photo shoot. If you and your family don't have any decent shots of you all together yet, what are you waiting for? Enlist the help of a local photographer near you and get ready to have some fun. Nothing makes a house more a home than some beautiful framed pictures of you and your loved ones!
Have you ever taken family photos? What tips would you give to others to ensure that their shoot goes well? Leave us a comment and let us know.