My husband is a little difficult to shop for. He will pine and drool over the latest tech gadget for months but when he gets an inkling that I am about to purchase the toy for him he puts his responsible Dad hat on and talks me out of it. It's pretty noble and grown up of him but once the gift I have been planning and saving for is off the table I'm stuck. Now what!?! This year I am ready. I have some excellent Father's Day ideas lined up. Check them out.
 iPad Miniot Cover
My husband travels frequently for school and soon for business as well. The iPad is his regular travel companion. These stylish cases have built in magnets which allow them to rest snugly and stylishly on your iPad. The Miniot looks great, has a protective suede microfiber lining, converts into a stand, and can be engraved as well. Really cool gift.
I don't like to stereotype but I've yet to meet a man who doesn't love to grill. Omaha Steaks are a definite crowd pleaser. There are packages to suit every budget and the best part is the whole family gets to enjoy this gift. My husband's Grandma usually sends us an awesome assortment each Christmas but it doesn't last more than a few months. Father's Day is the perfect excuse to replenish our supply.
What's better than a delicious smelling and clean shaven handsome man? Not much. These products not only get the job done fragrantly but they look lovely in the bathroom as well. High quality shaving products are a weakness of mine and I have to admit to stealing my husband's on occasion when I forget my shaving cream on the counter. Daddy has to shave all the time why shouldn't he have a little bit of luxury in his routine?
I'm a sucker for hand and foot print gifts. This printable makes it easy for you to create a personalized handprint tree for Daddy. You can add special notes, have the kids autograph it, and then hang it in a pretty frame. I bet Granddad would love something like this in his office too.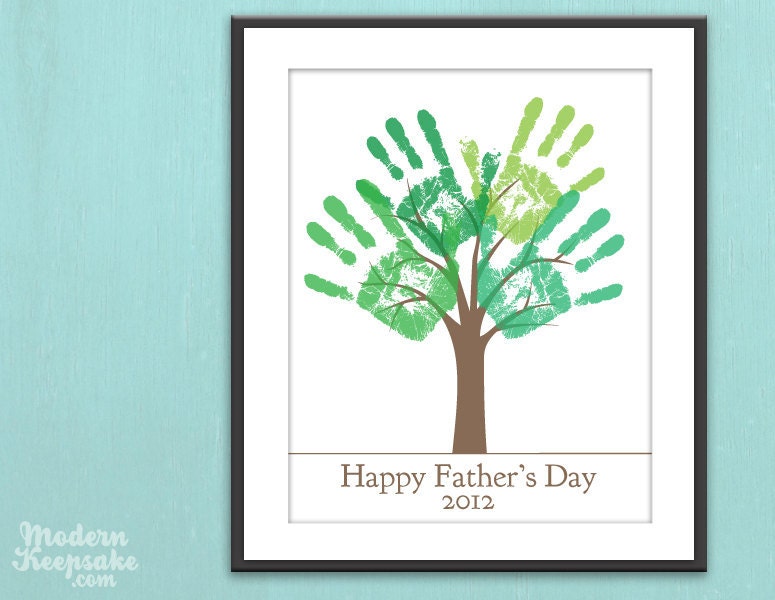 Daddy Journal
This idea is both creative and eye-catching. If you are artistically inclined this might be the best option for you. Combine photos and some of your child's drawings and words to create a  photo book and memory journal hybrid that is sure to be a hit. I think something like this would make my husband cry. Check out the site and creative prompts to get you and the kids started.
What are your Father's Day gift ideas for your special guy?