To find out the gender of your baby or not? That is the question. I totally get the appeal to not finding out and being surprised. I'm sure it's the most exciting thing in the whole world the moment your baby is born and the doctor tells you if it's a boy or a girl. Priceless. For an impatient, total planner like me who's not big on surprises either, I HAD to find out what I was having.
I was scheduled for my ultrasound at 18 weeks but that just was not going to cut it. I talked my husband into doing a 3D ultrasound just before 16 weeks so we could get a sneak peek at our baby. I loaded up on juice, went to my appointment, and found out I was having… A bouncing baby boy!
I immediately went shopping and stocked my future sons nursery with tiny blue clothes. I wanted to find out the gender of my baby because there was no way I could have lasted 40 weeks without knowing. I also wanted to have a name set, and decorate his nursery accordingly.
I don't think there's a right or wrong way. Both ways are right and it's up to the parents to decide which way is perfect for them. If you ARE finding out the gender of your baby, I've got some fun gender revealing party ideas for you today!
Honestly, I had never heard of the idea of the gender revealing party when I was pregnant. I think it's somewhat new, and I really dig the idea. When I have another baby down the line I doubt I will throw a huge party, but I think some of these ideas would be so neat to share the news with family and close friends.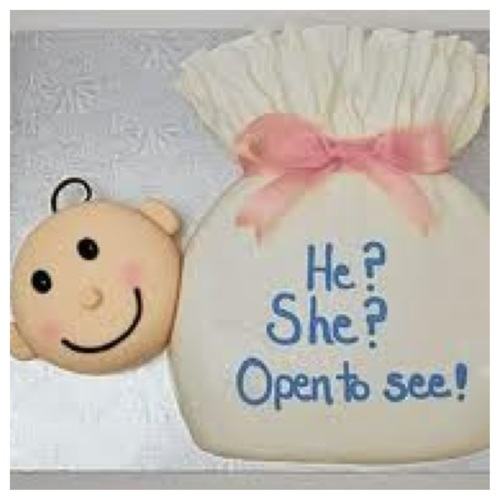 1. The colored cake. Buy a cake with either a colored blue or pink inside. When you cut the cake your baby's gender will be revealed with the color that's inside the cake. Double bonus because the cake will be delicious and you can eat as much of it as you want. It's okay, you're eating for two.
2. Fill a box with blue or pink balloons. You could decorate the box and label it with something cute like "Boy or Bows?" When the box is open all the blue or pink balloons will come out letting everyone know what you're having.
3. Pinata time. Stuff a pinata with blue or pink candy. Let guests take turns taking a whack at the pinata. When it breaks, pink or blue candy will come spilling out. You could have some cute pink or blue treat bags on hand so guests can fill up their bags and take them home.
4. Second time around. If you already have an older child, have them wear a pink or blue t-shirt with clever words like- "Little Sister Coming Soon" or "Only Child Until May 2013". Dress your child up in the shirt and have them show it off to all your friends and family. This is an awesome way to get future big brother or sister involved.
5. Can't go wrong with chocolate. Wrap Hershey bars with custom labels that say either: HERESHEIS or HEREHEIS. Pass them out to friends and family. They will appreciate the chocolate, too.
Those are my ideas for gender revealing parties, now we'd love to hear your ideas! Did you find out the gender of your baby or did you keep it a secret? Did you have a gender revealing party? If you did, how did you tell everyone the news? Leave us a comment and let us know!