Fisher Price 4-in-1 Rock 'n Glide Soother Video Review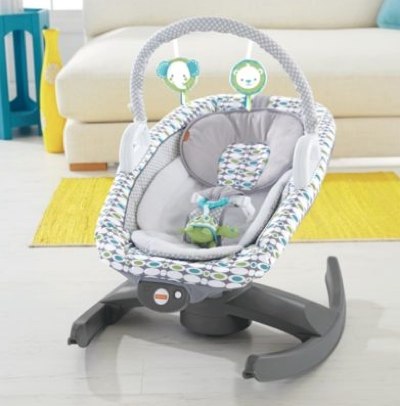 The Fisher-Price 4-in-1 Rock 'n Glide Soother is a motorized infant seat that will help you soothe your baby with a gentle rock or glide when your arms need a break. This multi-purpose baby seat offers two motion directions (head to toe or side-to-side) with three gliding speeds and two reclining positions. We love that the seat is comfortable for baby with the soft surround padding and head pillow.
The greatest thing about the Rock 'n Glide Soother is that it is two main baby products in one – a rocker and a glider. The glider is AC-powered with the included power cord and has a convenient foot pedal operation to let you quickly turn the motion on or off. This is a great feature as this baby seat needs to stay safely planted on the ground and never set on an elevated surface. While we love that it plugs in and saves us the aggravation of replacing batteries all the time, we would have still liked to have a back-up battery option for the powered glider for those times that an outlet just isn't the most convenient place to set baby in the room. We are hoping that they add that in the next version.
Once your baby is done gliding and wants to rock out, you can easily remove the seat from the gliding base (just by lifting up the portable seat!) and use it as a free-standing rocker. If an outlet isn't convenient, use it as a rocker as it doesn't need to be plugged in.
There is a vibration on the actual seat to calm baby and there are are 12 tunes and 3 soothing nature sound effects on the gliding base. When the baby is awake, they will enjoy the linkable turtle toy that is connected to the 3-point harness and the simple toy bar with two hanging toys above them.
To see the Fisher Price 4-in-1 Rock 'n Glide Soother up close and personal to decide if this is a must-have for your baby registry, watch our Baby Gizmo video below.
BUY The Fisher Price 4-in-1 Rock n Glide Soother HERE