Fisher Price Laugh and Learn Apptivity Monkey Video Review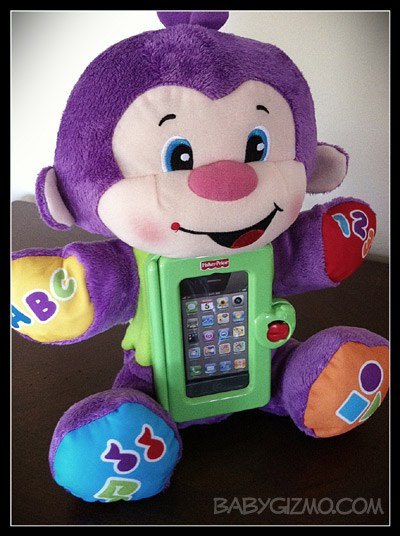 Yep, it's that time of year already! Sure, the kids just went back to school but we are already starting to talk about the holidays! I know, I know, it's too early, right?!? Nope. There are all kinds of holiday shoppers out there and some like to get it done early. That is why we are starting our Baby Gizmo Hot Holiday Toy Videos now. Over the next few months, we will highlight different toys to let you know what should be on your kid's holiday list and what needs to be skipped.
Today we are starting off with a fun new toy from Fisher-Price. With the popularity of the Laugh  & Learn Puppy, Fisher-Price has taken that concept to a new level and designed the Laugh & Learn Apptivity Monkey for use with an iPhone or iPod Touch. Not to worry though because the Apptivity Monkey can still be used all by itself without a smart device in it.
This interactive toy will delight even the youngest babies with it's cuddly, soft exterior, interactive paws and variety of learning songs, tunes and phrases. The Monkey teaches letters (A-Z), numbers and counting, shapes and colors, animal names and sounds. It enhances sensory development with the songs, sounds and phrases, encourages eye-hand coordination and fine motor skills and teaches about cause and effect. That is a whole lot of learning going on in one monkey.
So that you can see the Apptivity Monkey up close and personal, we did a Baby Gizmo Video to show you.