Exercise is so important for our health and well-being, and it gives us the energy we need to take care of our kids. Unfortunately, when you've got young children at home, in can be hard to find the time or the opportunity to work out. So here are seven ways to fit some exercise into your day.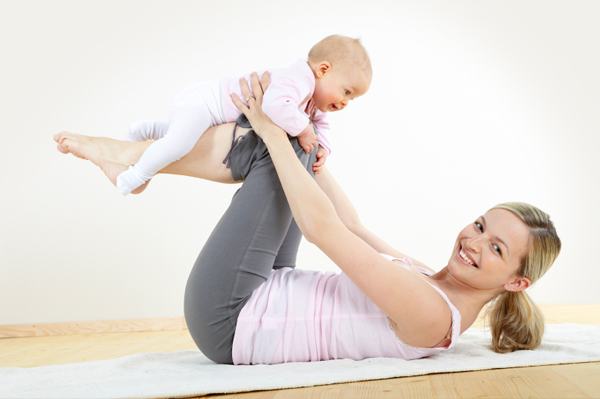 1.

Take a walk.
Put your infant or toddler in the stroller and walk around your neighborhood, through parks, along the beach, etc. It's a great way to get exercise and some fresh air. You can also put your little one in a baby carrier or a hiking backpack and hit the trails. I love my Kelty Kids backpack!
2. Play with your kids.
As tempting as it may be to relax on the deck or on a bench while your kiddos run around in the backyard or at the park, get in on the action! Climb on the jungle gym, play a game of catch or basketball, chase your child, play tag, etc. You'll burn calories and have a great time!
3. Enroll in a stroller fitness class.
Stroller fitness classes are a great way to get a total-body workout, meet other moms, and have fun with your children. They incorporate power walking, strength and toning moves, and songs and activities for the kids. Some groups also have get-togethers outside of the regular workouts. Try Stroller Strides or Baby Boot Camp.

4. Join a gym that offers child care.
Many fitness centers across the nation have kids' clubs at which you can drop off your child for up to two hours while you exercise. The kids' clubs usually cost an additional monthly fee, but it costs much less overall than it would to pay a babysitter every time you head to the gym. Click here for our list of national fitness center chains that offer child care.
5. Work out at home.
Consider investing in a treadmill, an elliptical machine, or a stationery bike to squeeze in some cardio at home while your baby sleeps or your children play in the same room. You can also pop in a workout DVD. Infants will get a kick out of watching you do the moves, and toddlers and preschoolers might enjoy joining in! Hand weights, resistance bands, and a workout ball are also great accessories to have to do some strength-training moves at home.
6. Exercise with your child.
Mommy and Me exercise classes are rising in popularity across the country. There's Mommy and Me Yoga, Mommy and Me Pilates, and even Mommy and Me Zumba! Just do a Google search to find a class in your area.
7. Take a class when someone else can watch the kids.
It can be difficult to join a gym or an exercise studio that requires a monthly membership when you've got such little time on your hands. You run the risk of paying a lot of money and only being able to go a handful of times. Luckily, there are all sorts of great exercise studios across the U.S. that offer per-class packages. You can buy 10 classes, for instance, and go whenever you can fit them in, like when Dad gets home from work or when Grandma comes for a visit. Daily deal sites like Groupon and Living Social also often have great deals on fitness classes. Just be sure to check the class schedule before you buy so you can make sure there are classes at times that are convenient for you.
How do you find time to exercise with little ones? Leave us a comment and let us know!