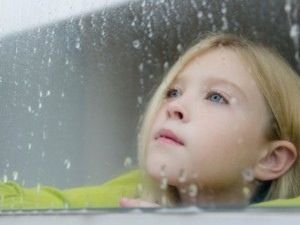 Rainy (and snowy!) days can be hard for little ones and their moms because if the weather is bad, you're stuck indoors all day. Fighting cabin fever can be really difficult. Since winter, rain, and snowy weather is upon us, and my son is itching to get outdoors on the playgrounds and getting bored with our daily indoor routines, I wanted to get creative and come up with some cool new indoor activities.
Here are five fun activities for you to try on a rainy day:
1. Put your child in their bathing suit, give them some new bath toys, and let them have an indoor swim session. It's not the pool, but it's almost as good. Throw some soap in there and your kid will get clean, too.
2. Let your child be an artist. Finger paint in a new coloring book. If you've got really little ones, you can put a few drops of food coloring in yogurt and let them play and paint with it on their high chair tray. Double the fun because they can eat it, too! Find broken crayons around the house, put them in an oiled muffin tin, and place them in a warm oven to melt. Let them cool and pop them out of the tin. Use your new crayons to draw pictures in your new coloring book.
3. Go camping. Pitch a tent in your living room using blankets, sheets, and extra kitchen chairs. Stick some pillows and blankets inside and cuddle up and watch some movies. Your kids will love helping you build a "fort" and it will entertain them all day.
4. Obstacle course. Assemble a miniature obstacle course with pillows and hula hoops and any other items you can find around the house for your kids to get through.
5. Transform your house into a bowling alley. Small, empty water bottles and a rubber ball are all you need to do this. Six bottles should be enough for bowling pins; if the bottles fall over too easily, fill them up with a little water or dry pasta for some extra weight. Let your kids take turns trying to knock the "pins" over. Keep score and let the winner pick a treat.
Leave us a comment below and tell us your favorite rainy day indoor activity so we can put it on our list!