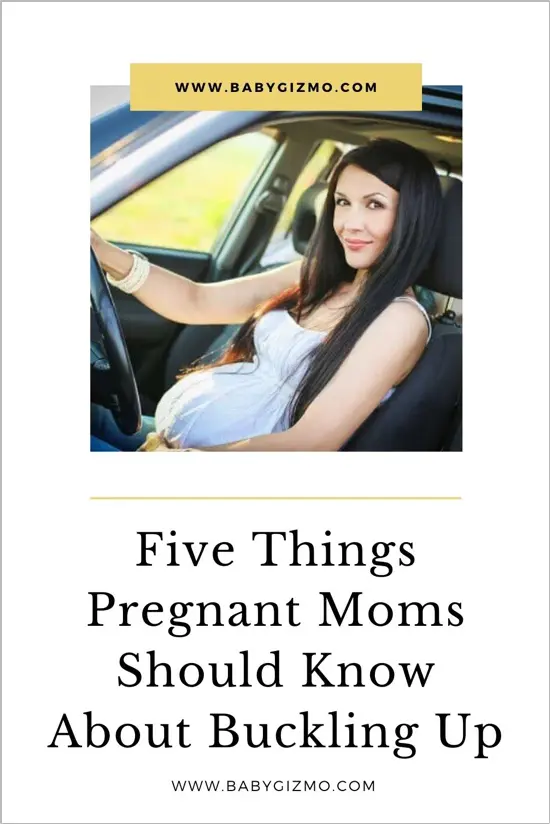 Did you know that car accidents are the leading cause of death in pregnant women in the U.S.? No? Well, it's true. More women in the U.S. die in auto accidents than from birthing complications. That's a startling statistic, but it underscores the importance of pregnant moms taking the necessary precautions to stay safe in cars.
So how should pregnant moms stay safe? Well, to stay safe in cars, pregnant moms should know to wear a seat belt at all times. I know. I know. It sounds like a given, but so many pregnant moms do not wear seat belts or wear them incorrectly. So, to help these moms and as a reminder for all other moms, here are five things that all pregnant moms should know when it come to buckling up:
When driving or as a passenger, you must wear a seat belt at all times. It's a fact that a seat belt is one of the best ways to ensure the safety of you and your baby in the event of a crash.
Leave your air bags ON. Both air bags and seat belts are necessary to provide the necessary protection for you and your baby.
Wear your seat belt correctly. Your seat belt should be worn with the shoulder strap positioned between your breasts and away from your neck. The lap strap should be fitted across your pelvis (the bony part).
Adjust your seat, so that your seat belt fits comfortably. Move your front seat as far back as possible, while making sure your feet can still reach the pedals. The distance between the center of your chest and the steering wheel cover or dashboard should be at least 10 inches. As your belly grows with pregnancy, you should make sure to maintain the 10 inch minimum.
Even with air bags, you should still use your seat belt. Air bags work with seat belts, not in place of them.
That's it. That wasn't so bad, right?
Seat belt safety is important for not only for you as driver and passenger. So, buckle up! Your life and your baby's life depend on it!