If you are a fan of pocket diapers then you will want to check out Mother-of-a-daily-deal today.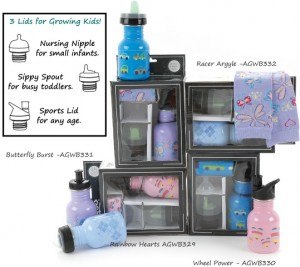 The Mother of all Fluffy Deal package includes:
1 Fuzzibunz Perfect Fit or One Size Cloth Diaper in large range of colors
Agoo bottle set that contains:
1 pair of Agoo leggings
1 matching bottle with a nursing nipple, sippy spout and sports lid
Here at Baby Gizmo we are all big fans of the revival of leggings in baby form and Agoo makes some of the softest leggings around.  Agoo Leg Huggers are eco-friendly and made from 100% sustainable Bamboo fibers.  These adorable leggings are paired with a printed 350ml matching bottle set that comes with 3 lids for growing kids. Supplied with a universal lid that adapts to hold either a Nursing Nipple, Sippy, or Sports Spout. It is certified BPA free, dish washer safe, food grade stainless steel, and is 100% reusable and recyclable.
Fuzzibunz cloth diapers are a favorite in the pocket diaper world.  The Fuzzibunz snaps are built to last for 3+ years and include easily replaceable elastic to make sure your diapers last until your child's potty training years.  Each diaper includes the replaceable elastic and 2 inserts.  If you are still unsure about Fuzzibunz check out their glowing reviews at DiaperPin where they have received 4 stars!
If that fluffy deal wasn't enough Babysteals is offering a cloth wipes package.  I love cloth wipes, they are so easy to use along with the cloth diapers.  They wipe up every mess so quickly and easily and with only one wipe.  I like to keep a spray bottle handy to make even the messiest of jobs easy.  The babysteals package is as follows:
The Bottoms Up Baby Wipes All-In-One Kit Includes:
25 – all natural cotton terry cloth baby wipes (5.9″ x 5.9″)
1 – clean baby wipes container
1 – clean baby wipes essential oil blend – lavender & chamomile
1 – dirty baby wipes essential oil blend – tea tree & lemon
1 – dirty baby wipes container – with mesh bag insert
1 – clean baby wipes waterproof travel bag
1 – dirty baby wipes waterproof travel bag – with mesh bag insert
-Contributed by Melissa