Former ESPN Anchor Has Miscarriage On Air
Mother's Day brings out the best and the saddest stories of motherhood, and this year was no different, as we celebrated another Mother's Day a few days ago. One story that surfaced was from former ESPN sports anchor Sara Walsh, who posted on her Instagram about her very touching and personal story behind her 3-month-old twins.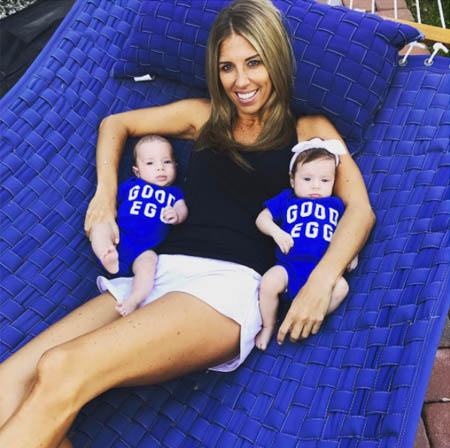 The process to these two "good eggs," as their onsies say in the accompanying picture, was a long and painful one. Walsh describes her miscarrying multiple times and the ordeal that her and husband suffered, mostly in silence. One of the worst days being when she was miscarrying on air. Her post reads:
"The road down a dark path began while hosting Sportscenter on the road from Alabama. I arrived in Tuscaloosa almost three months pregnant. I wouldn't return the same way. The juxtaposition of college kids going nuts behind our set, while I was losing a baby on it, was surreal. I was scared, nobody knew I was pregnant, so I did the show while having a miscarriage. On television. My husband had to watch this unfold from more than a thousand miles away, texting me hospital options during commercial breaks."
The fact that her body was losing her baby while she had to pretend everything was fine, on TV in front of thousands of people, blows my mind. My first thought and feeling is sadness and sympathy for her. That sounds like a horrifying experience. I'm sure she felt so confused and alone. My next thought, however, is why? I have so many questions:
Why did she go to work that day or not stop shooting while her body went through this process? Could no one have filled in for her? Why couldn't she explain to someone what was happening and ask to be excused so she could handle this incredibly personal and sad situation? Was she scared of losing her job or letting the network down? She wanted to be private about this. But if she had been willing to be open, would she have had anyone to talk to about this, or did she feel alone and like no one would understand? Was continuing with her work a way to cope with what was happening—like a distraction? Now that she's had time to process, does she wish she had done anything different?
I am definitely not judging how Sara Walsh handled this particular situation. I have, thank God, never lost a baby due to miscarriage so I am very aware of my lack of personal experience and knowledge of what it's truly like. So who am I to judge how another woman handles it? But what I AM aware of is how little miscarriage is talked about in general. I'm aware of how taboo the subject is among our society, almost like you can't talk about it or else you'll jinx your next pregnancy.
Of course, it is a very personal matter, so I understand why many women don't (or can't) talk about their miscarriages. But I wonder if more women were willing to do so, would it be more understood? If more women spoke out about how common it is to lose their child and what it feels like, wouldn't the topic/possibility seem less taboo? Wouldn't women band together in a shared experience and lift each other up with empathy? And then maybe, just maybe, Walsh could have felt comfortable enough to ask for the day off, instead of having to endure miscarrying on air while college kids screamed and played right behind her.
Walsh's Mother's Day post went on to describe why they remained so quiet about their successful pregnancy with their twins:
"I blew off pregnancy tests, scared to know if it worked. It had. Times two.
It was exciting news, but we knew better than to celebrate. So I spent a third straight football season pregnant, strategically picking out clothes and standing at certain angles, using scripts to hide my stomach. There would be no baby announcement, no shower, we didn't buy a single thing in preparation for the babies, because I wasn't sure they'd show up. We told very few people we were pregnant, and almost no one there were two. For those that thought I was weirdly quiet about my pregnancy, now you know why."
After having so many painful experiences with hoping for a baby and it ending in miscarriages, it makes sense they were cautious to accept the success of this latest pregnancy. She was protecting her heart, remaining fairly silent of the good news. But again it makes me wonder: if people gave the topic of miscarriage more attention and respect, would she have felt as alone, worried, unwilling to hope too much? Or would she have been given more support, more information, more success stories to focus on? Shouldn't we talk about this more, so that no one feels they have to hide the hell they are going through?
One of many comments left on her post thanked her for being open about this experience, saying, "I have learned firsthand how deeply sad miscarriages are. Your story gives hope to others who are experiencing similar difficulties." So yes, we should talk about this subject more. Why suffer in silence?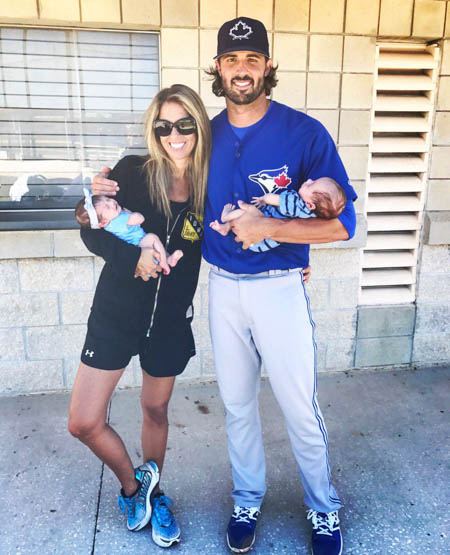 Walsh's story ends happily, having two sweet and healthy babies now. Unfortunately, when it was time for her to return to work after maternity leave, she found out that her name was included on the long list of recent ESPN layoffs, as her previous Instagram post revealed. But like she states, this gave her the chance to spend this Mother's Day not hurting while on air, but instead snuggling her two little miracles.
"For as long as I can remember I hosted Sportscenter on Mother's Day, and the last couple years doing that have been personally brutal. An hours-long reminder of everything that had gone wrong. I wasn't on tv today, and I'm not sure when I will be again, but instead I got to hang with these two good eggs. My ONLY good eggs. And I know how lucky I really am."
I'm grateful Sara Walsh posted about her past miscarriages. She has a good following due to her former job and thus, has reached many women who have suffered in silence through their own miscarriages. Her story has strengthened and lifted many, all because she was willing to open up about it. She has taken the first step to bringing more awareness of the subject to our society, and it's up to the rest of us to keep talking about it, making it less taboo and lonely.
If you've suffered the loss of a child through miscarriage, how did you handle it? Would you be willing/able to talk about the experience now, to spread awareness and help other mothers going through one right now?