Have you heard of a company called Slumberkins? Apparently, they made an appearance on ABC's Shark Tank ninth season. I follow them on Instagram and am on their mailing list—that last tidbit indicating that I heard of them because they were part of the prize package of some contest or other that I entered. Their little snuggly animals are adorable and the premise behind the company is pretty cool; however, that is not what I'm here to talk about. Remember how I said I'm on their mailing list? From time to time, they send out free downloads of some pretty neat stuff, like the affirmation cards that come with their animals and are also available for purchase as a digital download (score!). This past week, I got an email with a link to a free Mindful Moments calendar for the month of January. Yes, you heard me right. A company just sent out an entirely free month's worth of mindfulness activities—gratis. (New to the concept of mindfulness? Check out Slumberkins' blog post on the topic to learn more. The post is really easy to understand and reminds us that we're already probably practicing mindfulness!)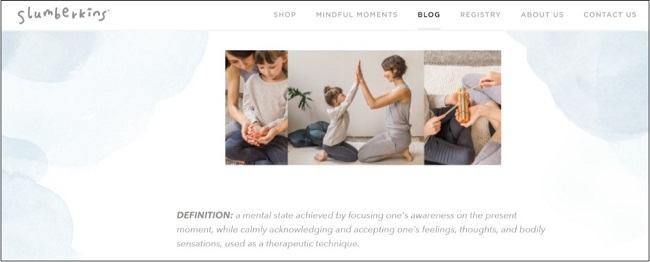 I'm pretty excited about this Mindful Moments concept and I think it couldn't come at a better time. I don't care if you go the route of celebs like Sandra Bullock and tightly limit the number of gifts you give your kids, if you choose the "something you want, something you need, something to wear, and something to read" gift-giving method, or if your family goes all out, there tends to be at least a little bit of "gimme" around the holiday season. (And if your family can't afford to participate in the "gimme," it can leave kids feeling out-of-sorts. Thank you so very much, television commercials and ads everywhere.)
Then there's the craziness of family visits and the fact that schedules go totally out the window this time of year. Whether folks come to visit you or your family goes visiting, the rules your kids usually have to follow are pretty much ignored. Bedtimes? Forget about 'em. Even if your family stays home and doesn't have visitors, chances are you're taking advantage of TV specials, holiday light displays, and once-a-year traditions that include at least a few nights of staying out later than usual, snacking on more sweets and treats than normal, and just breaking a few of your smaller household rules in general.
Why else might taking some time to focus on mindfulness be important? Because now is a good time to intentionally spend some time together as a family. No, really. I hear you that you're counting down the days until school starts and you have probably had more than enough time together thankyouverymuch. But taking some slow time together, some calm time together, some time to be present together is likely very different from what you've been doing for the past few weeks.
You know what else this calendar can do? It can introduce your children (and you) to new ways to calm down and to be in the moment. These are great skills to learn at any age. I mean, seriously, how many of us do yoga or meditate to develop and use exactly these same skills? My child's preschool taught them, and her elementary schools have, too. We don't need to introduce the activities on this calendar as teachable moments, but it's nice for us to know that there's the potential for practical skills to come out of this, too: "Remember when we…? Let's try that." And if there was an activity that was especially fun or meaningful, you can incorporate that into your family's life on a regular basis.
Finally, Slumberkins encourages you to participate online using their IG hashtag #imsogrounded. While I am cynical enough to identify that as a marketing effort, I am also open-minded enough to call that accountability and support. Whether you choose to privately commit to doing this with a group of friends, or you're throwing your days' results out to a community of strangers on the Internet, you've got some accountability. And I don't know about you, but I am one of those people how needs an accountability buddy. No one's coming after you if you weren't mindful on Tuesday the 9th, but they say it takes 30 days to build a habit, which means it'll take the whole month of January before you've really established a practice of taking time to be mindful every day. Checking in with someone (or the Internet) every day can help you get established. Plus, the sharing of fails is encouraged, too—nobody's expecting that the whole sitting very still thing on January 1 is going to go off without a hitch! It's going to be funny, and real, and motivating.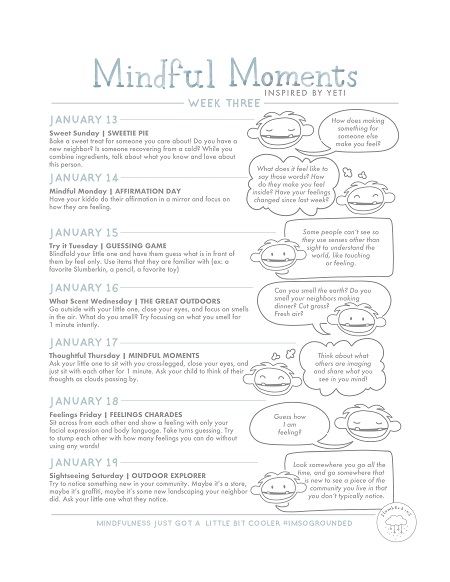 Oh yeah, and did I mention Mindful Moments completely free? I love free. And it's so pretty! So, go check it out. The calendar is available through the link in Slumberkin's bio on Instagram and a link on their website. Will you join me in 31 mindful moments this January? Consider it a ridiculously low-commitment resolution for the whole family.
PS: I also really like Good Night Yoga: A Pose-by-Pose Bedtime Story by Mariam Gates and the Smiling Mind app (also free, and with programs for kids and adults!). Give those a look and share your favorite family-friendly mindfulness apps and books with us in the comments.