Fun Backpacks and Lunch Boxes As Seen On TV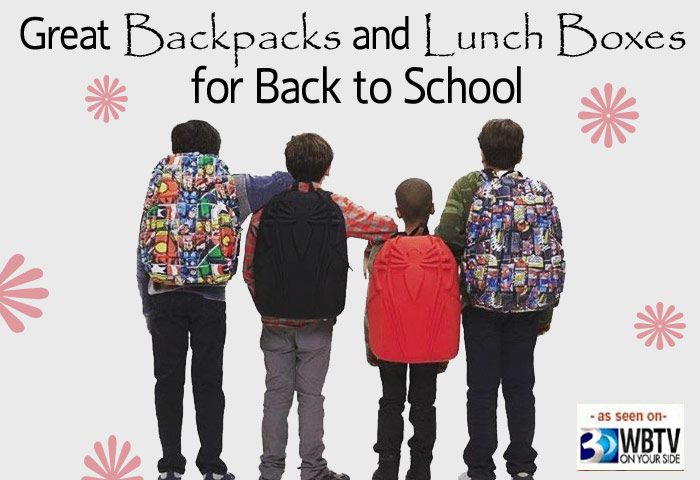 This month is all about back-to-school shopping and preparations. This morning I visited WBTV Charlotte to share some fun backpack and lunch box ideas with parents and kids. I even had a few mini models with me on-air.
BACKPACK TIPS:
Pick a backpack that fits your child. Ideally, you want the bottom of the backpack to hit at the small of their back.
A comfortable backpack with padded shoulder straps are going to make carrying all those books much more bearable.
Outside bottle pockets are key for those thirsty kids.
Check your school's bag requirements. Some preschools require a backpack that can fit a full-size folder and some school prohibit bags or backpacks with wheels.
BACKPACKS & LUNCHBOXES FEATURED:
MODEL #1:
2nd Grader featured the Crewcuts Kids' Snaggletooth Monster Backpack.
The awesome-est way to carry all their books and binders? Inside this so-cute-it's-scary snaggletooth monster backpack.
Pottery Barn Kids Mackenzie Retro Lunch Bag
MODEL #2:
4th Grader featured the brand new MadPax Spidey Senses Full Pack Backpack.
The wacky and always cool MadPax backpacks teams up with Americas favorite Hero. Marvel x MadPax is out newest collaboration! Swing into action with Spider-Man, Crush the scene with the Hulk and save the galaxy with Thor. What ever you do this school year, make sure to have at least one of the Avengers by your side!
MODEL #3:
6th Grader featured a Ju-Ju-Be Be Right Back in Peek a Bow.
While this is technically a diaper bag backpack, this Ju-Ju-Be bag is versatile and cute enough to hit the school hallways as well. The ultimate hybrid…everything a traditional, full-featured ergo backpack is…with the details and form of a beautiful fashion bag. All of Ju-Ju-Be's standard features included (i.e., a pinch of sass, a dash of technology and a huge dollop of cool style!).
BeatrixNY – Lunch Box: Dolce & Panna the Ice Cream Cones.
Bags featured on the table during the TV segment:
Ju-Ju-Be – Peek a Bow Fuel Cell (Lunch Bag)
Pottery Barn Kids – 2 Mackenzie Backpacks (Unicorns and Dinos)
Pottery Barn Kids – Mackenzie Classic Lunch Bag (Unicorns)