Staying home with the kiddos this New Year's Eve? Read on for some fun ways Baby Gizmo readers ring in the new year with their families. Perhaps they'll inspire some new ideas on how you can celebrate with your own kids!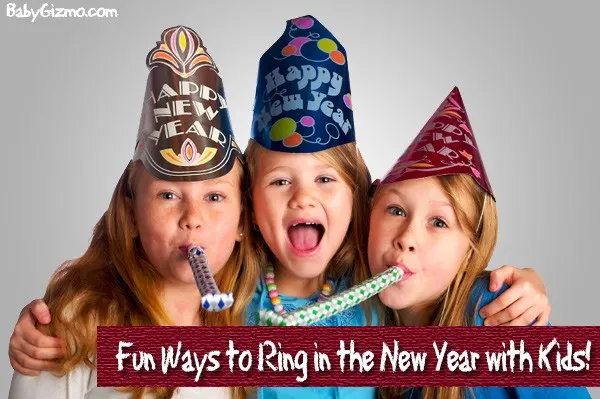 We let our four kids stay up late(r), but create a faux midnight. We let them watch a holiday special or a movie they have been wanting to see and have some sort of special treat. We also buy a cheap box of hats and noise makers. We do a countdown early, and then we all go to bed! As adults, we can't even hang! —Christine Vernetti
Since our kids go to bed before midnight on New Year's Eve, we do a countdown to noon on New Year's Day. I DVR the ball drop for them, and they use the streamers and blowers from the night before. —Jenny Simmons
Last year we dressed our 2-year-old son, JJ, up in a tuxedo shirt, because we told him that for New Year's Eve you have to be fancy. He stayed up until midnight and drank sparkling apple cider from the bottle when the ball dropped. —Christine Yannantuono
We usually invite other families to our house. We all bring or make a bunch of goodies and play games for the evening. Around midnight we light sparklers to celebrate the new year! —Kirstie Haataja
At around 9 p.m. last New Year's Eve, my extended family gathered around my parents' TV to watch a recording of the previous year's Times Square ball drop. At the end of the countdown we all started screaming and cheering, and my 4-year-old daughter, Ava, drank sparkling water out of a plastic champagne flute. She had no idea it wasn't really midnight. The neighbors must have thought we were nuts, but she was absolutely thrilled. Then she was in bed by 9:30! —Daniel Marino
We watch Dick Clark's New Year's Rockin' Eve while eating Chinese food picnic-style on the living room floor. I try to let the kids make it to midnight, but they never do! We toast the New Year early with sparkling water. —LaToya Abdalla
We put lots of coins in our pockets and the kids jump on the bed at midnight while screaming and making as much noise as possible. It's a silly Filipino tradition, but it's real fun! —Rica West
We usually get a babysitter and go out! Last year we stayed home and let Jack stay up. He wasn't too impressed with the whole New Year's Eve hoopla. —Michelle Brown
We let our 4-year-old son stay up. Our 1-year-old didn't make it last year and probably won't this year, but she'll just stay with us on the couch. We watch Dick Clark's New Year's Rockin' Eve and take a family picture at midnight. We have snacks and sparkling cider, too! —Kristen Milliken
Our whole family gets together, including all eight grandkids. We make appetizers and treats with sparkling cider. At around 9 or 10 p.m., we do a kid's countdown with party crackers. Last year we added papers lanterns, and the kids each let one go with their wish for the new year. —Debbie Peterson
We have a bonfire and roast marshmallows with some friends. We always let our daughter stay up until midnight if she can make it! —Tori D'Alessio
My kids stay up until 11 p.m. (ball drop time here). We do a puzzle, play games, and eat things like sausage balls, chips and queso, chocolate covered pretzels, and 7-layer dip. We toast the new year with sparkling juice. —Tiffany Stanley
My daughter is almost 2, so instead of celebrating at midnight, we'll be celebrating on New Year's Day at noon! We'll put on our party clothes, grab our musical instruments (tambourines, drums, egg shakers, or whatever else is noisy) and scream "Happy New Year!!!" at the top of our lungs while throwing confetti. Then we'll have a special lunch and dessert. Afterwards, we'll make sure to call all of our loved ones so she can say, "Happy New Year!" to them. —Taisha Alvarez
And here's how three readers celebrated the holiday when they were kids themselves!
Growing up we used to spend New Year's Eve with British friends, so we rung in the year with the BBC broadcast and were in bed by 10 p.m. —Karina Hamalainen
When I was a kid, we spent the evening eating snacks and cutting scrap paper into confetti. It became a contest to see who could cut the biggest pile. Then at midnight we threw the confetti and drank sparkling grape juice. —Sarah Romine
I always stayed up until midnight and my parents passed out. Ha! —Natalie Smith
How do you celebrate New Year's Eve with your children? Leave a comment and let us know!