Lately, mealtimes for my 2-year-old twins have begun to follow a similar pattern: The boys start out enthusiastically shoveling food into their mouths. Then, halfway through the meal—usually when all that remains is their veggies (surprise, surprise)—they start to lose interest. Sometimes it takes some creativity on the part of my husband and me to get things back on track. We'll do something goofy and fun to encourage the boys to take "just one more bite," and before you know it, that one bite has become many! Here are some of the fun bites you can find my boys taking on any given day at our kitchen table: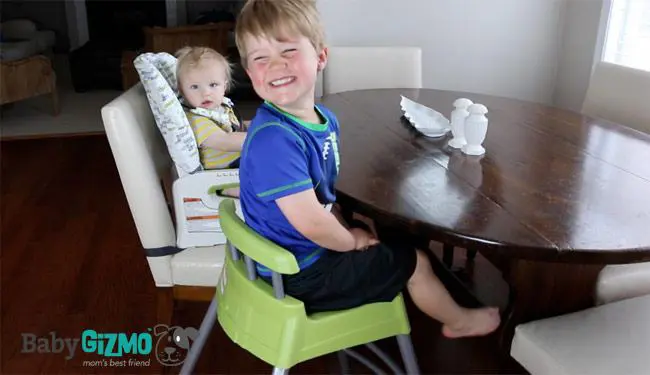 1. The "Happy!" bite:
One evening, when my boys refused to touch their broccoli, my husband started to pout and pretend to cry. "Daddy's sad," he said. Then he took a bite of the broccoli and immediately launched into a full-blown, goofy smile. "HAPPY!!!" he declared in a silly voice. My boys broke out into giggles and practically fought each other for the next bite of broccoli. "Nate happy, too!" "Matt happy, too!" they screamed. Before we knew it, they'd both eaten all their broccoli. Since then, my boys have taken many "Happy!" bites of a variety of veggies.
2. The tow truck/fire engine/bullet train/insert-other-vehicle bite:
We all know this oldie but goodie. I still remember my dad pretending my fork was an airplane when I was little. But for my boys, no generic "truck" or "airplane" or car will do. They ask for ice cream trucks, requiring my husband or me to hum the annoying Mr. Softee jingle. They ask for dump trucks, which requires us to make rumbling noises and "dump" the food into the boys' mouths. They ask for police cars, complete with loud siren noises. I sure hope no one is secretly videotaping our kitchen, because they'd be very highly entertained.
3. The superhero bite:
Similar to the vehicle bite, this bite requires us to fly the fork like Superman, sing the Batman theme song, etc.
4. The applause bite:
If our boys were Lady Gaga, they'd sing, "We eat for the applause, applause, applause…." They love it when we whoop, clap, and cheer as if they just scored the winning touchdown after they take a bite of asparagus or cauliflower. So, we do it. After all, we do feel a nearly unreasonable level of excitement when our boys eat veggies.
5. The spontaneous dance bite:
My husband and I will usually reserve this type of bite for the very end of a meal, when we're looking to start burning off some of the calories we consumed. The boys will eat a green bean and we'll jump out of our chairs and break out our wackiest dance moves around the kitchen island. These moves—the exact same ones that will make the boys duck under the table with embarrassment 10 years from now—absolutely delight them. After about 30 seconds we'll run out of fuel, and the only way we can get powered up again is if they eat another green bean. This craziness works. There is nothing our boys love more than watching Mom and Dad make complete fools of themselves.
Now, I don't want anyone to think we do this all the time. On the contrary, many of our meals are quite uneventful. We also don't do it outside of our home. (Trust me, you won't see us doing a conga line through the local Applebee's.) But our boys are typical toddlers, and sometime they need a little extra push when it comes to eating the healthy stuff (or eating anything at all). And sometimes, we just need to have a little fun. Our "crazy meals" always come with lots of laughter from everyone. Plus, they really spark the boys' imaginations. Now that they're a bit bigger, sometimes they are the ones doing the vehicle or superhero impersonations with their forks. We'll say, "Do a helicopter!" and then sit back and see what they come up with.
Now that you are all picturing me dancing around my kitchen while making race car sounds, please share: What are some creative ways you get your kids to take "just one more bite?"