Fun ways to announce a pregnancy
We've all been there at some point. Whether you're now expecting your first bundle of joy, second or any thereafter, it's a time of joy (at least when you get over the initial shock of it all). While some pregnancies are completely planned, others are also complete joyous surprises. However announcing a pregnancy to family and friends can be just as daunting as finding out your expecting. So how DO you break the news without just blurting it out over cocktails (and your mocktail — which by the way is a complete giveaway)?


A few years ago, it was simple. You picked up the phone and dialed every important person in your rolodex to share the exciting news. Always starting with your parents then working your way down the family tree and social circles. Things are just more complicated now. In this day and age of social media if you post something about cravings, being queasy or not being able to eat fish or drink wine, your Facebook friends will surely find out before your mother does. That is not recommended. Sharing your pregnancy on Facebook is now a common practice with people posting status updates like "There's a bun in the oven" or "We're thrilled to be adding to our family!" Another option for sharing the news on Facebook is to post a photo. I've seen people change their profile photo to their baby's ultrasound picture or post a photo of their pregnant belly saying "It's a girl/boy" and "Just 13 weeks and growing!" And for a more original take, you can always post the "pee stick" with the two pink lines — that always gets a few comments and "likes." It's great to be able to share the news with everyone in such an easy and fast way but it does lose a little personal touch.
For those that just love getting mail like birth announcements and birthday invitations, then you're probably going to like the idea of sending a pregnancy announcement. What better way to spread the joy and news then via snail mail. Yes, you'll have to bite your tongue for the next week until all have opened and received their gorgeous announcements — but it's totally worth it when you see it hanging up on your best friend's fridge every time you go over. I love the Pregnancy Story Cards from Tiny Prints, starting at $2.34 per card, that allow you to share upload photos and add little tidbits like "I'm craving tacos and pickles and Joe has to rub my feet every night for 9 months!"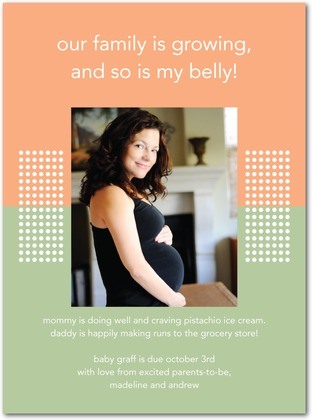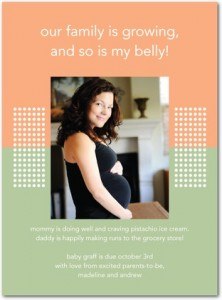 If this isn't your first baby, then it's always nice to let the older sibling do the talking. Buying or making them a shirt that says "Future Big Brother" or "Future Big Sister" is a great way to involve them in the process from the beginning and get them prepared for their new role. Show up at a family gathering or party with them wearing the shirt and let the questions begin. Kids are the most honest beings on the planet so surely, they wouldn't be wearing the shirt as joke. Customize your own shirt at CafePress.com, starting at $10.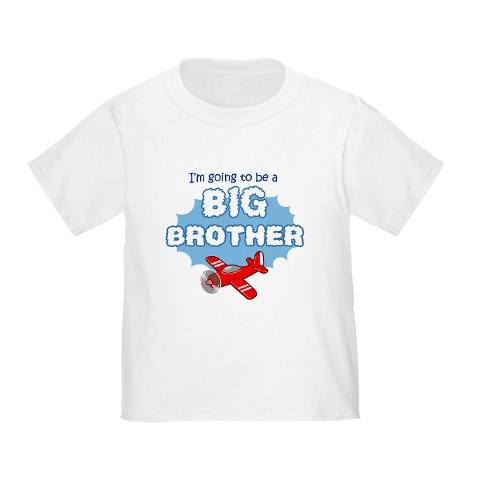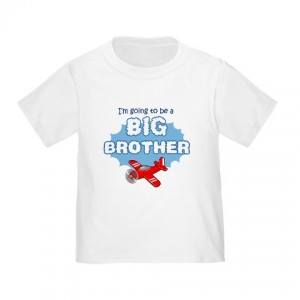 Immediately upon finding our your pregnant, one of the easiest ways to journal your pregnancy journey is to start a blog. It takes about five minutes to set-up and you can make it completely private for only you and invited guests to view or you can be like the rest of us and share with the world. It's up to you what you want to share and when you want to share it but it makes a nice memory book because everything on the Internet lasts forever and ever. The easiest way to set-up a blog is to use Blogger which is FREE via Google. Whether you're a writer or not, it's a great way to announce a pregnancy, post photos and share milestones for family and friends alike. There are also options available to have your blog turned into a hard copy book as a memory keepsake — so much easier than scrapbooking!
Nothing says "I'm having a baby" like cake. Whether you bake it yourself and write "we're having a baby" or you just decorate it with little baby booties from a local bakery, it's a great ice breaker for family and friends to receive the news. Some bakeries can even take your sonogram picture and scan it onto the cake — that will surely give the guests something to talk about. Take it to the next BBQ and make sure you have a camera on hand to see all the guests' reaction as they look at the cake in amazement and then gaze straight towards your belly to see whether the joke is on them! The best part is…you'll finally get a piece of that cake you've been craving.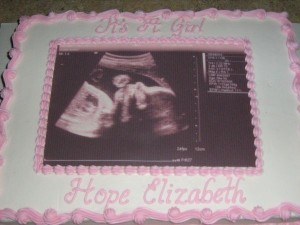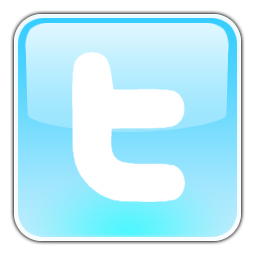 If you're a social media junkie like me, then you're probably also on Twitter. Twitter is tricky to announce a pregnancy because seriously, no-one's mother or any family member over the age of 50 has gotten hip to using Twitter yet. So while it's exciting to send out a 140-word tweet to all your "tweeps" telling them you're "so knocked up and so excited," you may or may not get congratulations from your dedicated followers (most of whom you've never met in person) or some snarky comments from a follower that now needs to be unfollowed. This should be the last place you make an announcement of your pregnancy so all the people that really do know you, are the first to know.
Last piece of advice on announcing a pregnancy, just make sure you do it before you really start showing (around 4 months for first timers/2-3 months for second and thereafter pregnancies) and people start looking at your belly and wondering what you ate for lunch!
Oh, and by the way this is my way of announcing to all my family and friends that yes, we're expecting a third baby come November 2011. Surprise (literally)!
How did you announce your pregnancy?