How to Get Kids to Eat Spinach (with a smile!)
Welcome to How-To Monday! Now, it is no secret that I've been on a healthy kick for the past 6 weeks. Here's the funny thing about families though – when mom is on a "kick", everyone in the house participates. Why? Because mom makes the meals in my house which means I have free reign to include everyone in my healthy eating. I only make one meal and if you are hungry, you'll eat it. I'm not one of those people that will make a bunch of different things because one child doesn't like meat and another hates potatoes. Everyone is served the same thing.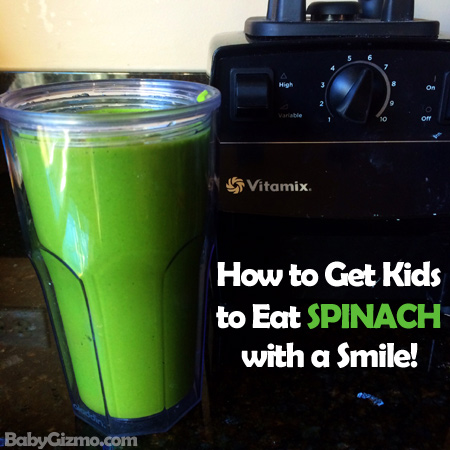 It's all good though because I'd like my kids to eat healthier anyway. When I started my big health kick last month, I tried to think of ways to incorporate more fruits and veggies in our diet. Sure, I make a smoothie every once in a while that my kids shared with me but it was mostly fruit. Honestly, I was a little afraid of those "green smoothies". I like spinach and all, but to drink spinach seemed a bit extreme. But diets will do funny things to a person and make them try things they wouldn't normally try.
Once morning, we just jumped in with both feet and I made a green smoothie for the entire family. Yep, my Vitamix is amazing and I can make quite a bit with that marvelous gadget. I received a little resistance while I was making it, because guess what – the smoothie was green. And not a good green either – a gross, moss green. It might be from the 4 cups of fresh spinach that I packed into it. No big deal because we were ALL going to try it. Yep, everyone was getting a drink!
To my surprise, after the initial whining from the color, they all loved it. Why? Because it didn't taste like spinach at all. It tasted fruity.
That was 6 weeks ago and we've all had green smoothies everyday since. Even the kids drink it with a smile and ask for more. Seriously, it is an amazing way to get your kids not only to eat more than a cup of spinach but other things like kale, greek yogurt, cucumbers, fruit, etc.
Our how-to video today is "How-To Get Your Kids to Eat Spinach" and I show you how to make this amazing smoothie.