Getting Ready for Summer with Pediped Sandals
This is a sponsored post. Thanks for supporting Baby Gizmo.
Summer is right around the corner and that means vacations, pool time, outdoor activities and more. At this time every year, I get the kids ready for our summer madness with new summer shoes. Not just any shoes though – summer sandals. Yep, today we are talking about the adorable summer sandals I picked out for the kids!
The fact that our travel schedule already kicked off last week with a quick trip to Disney World, and that we have more to come in the next 3 months, meant I had to jump on the summer sandals early.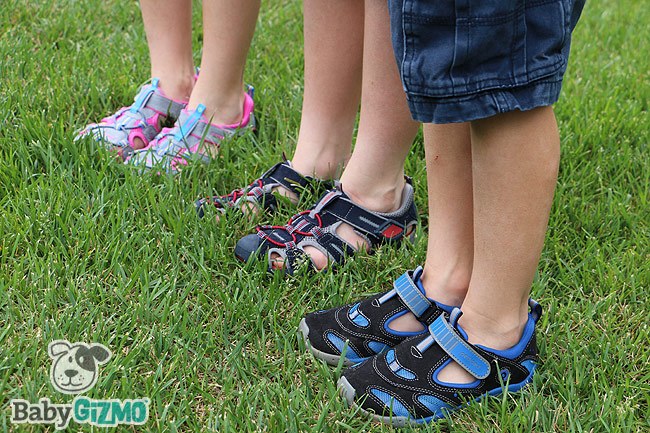 Since all three kids needed new shoes for the summer (darn those growing feet!), we went on a hunt for great shoes, but I had a list of requirements so I could be a smart shopper. I need these shoes to do multiple duties and to last. First, with trips planned to the beach, water shoes that would work on land with protective soles, yet hold up in the water was at the top of my list. Second, these sandals needed to be good quality and last us through the entire summer. I even expect my older boy's sandals to be able to be handed down to his younger brother when he outgrows them. Third, they needed to tackle dirt, grass, mud and whatever else my 6 and 9 year old boys will get into. If they are machine-washable, even better.
So, pediped sandals to the rescue again! The pediped sandals that we chose are part of their Adventure Line and fit the bill for everything we were looking for.
Water safe? Check.
Machine washable? Check.
Protective soles, comfy and good quality? Check, check and check.
Be sure to watch our Baby Gizmo Video above to see all the reason why we love our new summer sandals from the pediped Adventure Line.
To check out their entire line of Spring and Summer shoes, visit www.pediped.com.
So, what are you waiting for? Get to shoe shopping already! 🙂