Gift Ideas for Toddlers and Preschoolers
Today's gift guide is all about the toddlers and preschoolers. Here are 35 ideas for great gifts that your little ones are sure to love for the holidays. (You might want to keep this list handy for the rest of the year too because these picks make great birthday gifts as well!)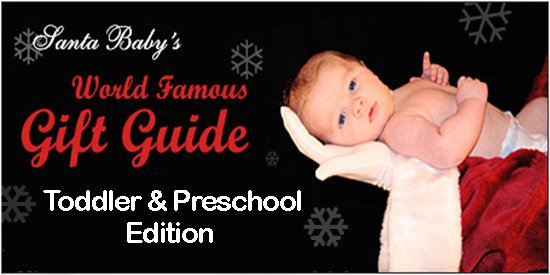 Step 2 Little Cooks Kitchen–

$49 – This kitchen has everything a little cook-to-be needs besides the food!

Taxi Trike

– $299 -This trike for two is twice as good!

Buddy Blocks

– $13 – These earth-friendly blocks are a great intro to puzzles.

Peg Board

– $22 – This giant peg board is colorful and fun.

Recycling Truck by Green Toys

– $18 – It's never too early to teach about recycling.

Tie-Up Shoe by Plan Toys

– $13 – Great for teaching kids to tie their shoes.

Kid's Croquet

– $49 – Get kids learning backyard sports early with this animal croquet set.
Fisher Price Princess Songs Palace– $38 – Our Lil' Baby Gizmo tester shows this toddler-friendly castle up close and personal.

Fisher-Price Laugh & Learn Learning Kitchen

– $34.99 – This toddler kitchen has been a favorite for years.

VTech Spin and Learn Color Flashlight

– $24.95 – Toddlers will love this heavy-duty flashlight from VTech.

Skip Hop Alphabet Zoo ABC House Blocks

– $25 – We love these new wood blocks from Skip Hop.

My First Disney Princess

– $29 – A great toddler-size doll to introduce your princess to the Disney princesses.

PlasmaCar

– $56 – Our kids love zooming around the house in these fun ride-ons.

Cloud b Twilight Turtle

– $23 – This adorable turtle doubles as a nightlight that fills your kid's room with stars.

Little Tikes Easyscore Basketball Set

– $25 – Dads will love teaching their ball skills to their little guys with this toddler basketball set.

Fisher-Price Laugh and Learn Apptivity Case

– $15 – Have a toddler who loves your iPhone? This present is more for you (to protect your phone!) than your child.

Fisher-Price Servin' Surprises Kitchen and Table

– $59 – With this table and mini kitchen all in one, clean up is a breeze.

Skip Hop Zoo Toddler Backpack

– $20 – These are the cutest toddler backpacks in the universe.

Prince Lionheart Wheely Bug

– $60 – An oldie but a goodie ride-ons for toddlers.

Smokey the Firetruck

– $34 – A Baby Gizmo favorite pick last year! This toy has been played with by our Lil' testers so much this year, that it had to make the list again.

Master Moves Mickey

– $48 – If you have a Mickey-lover in the house, they will love bustin' a move with this dancing mouse.

Step2 Water Wheel Activity Table

– $26 – Use this table as an activity table inside in the winter (minus the water!) and outside on the patio on the summer.

LeapFrog Fridge Phonics

– $21 – This is my go-to present for all 2-year-olds. Affordable and fun!

Joovy Foocot

– $64 – The Joovy Foocot toddler cot is great for traveling or as a nap space at home.

Joovy Balance Bike

– $99 – Balance bikes are all the rage for teaching a toddler to ride a bike and this one by Joovy is one of our favorites.

Melissa and Doug Shape Sorting Clock

– $13 – We love this clock for teaching our preschoolers how to tell time.

HABA Play Pirate Tent

– $130 – My kids love this pirate themed tent by HABA and I'm sure yours will too.

KidKraft Deluxe Fire Rescue Set

– $94 – Another popular toy from last year but our testers love it so much that they begged that it be included again this year.

PBK Shaggy Dog Sleeping Bag

– $69 – A sleeping bag is always a good idea for a toddler and one with a built-in shaggy dog pillow is even better.

Little Tikes Shopping Cart

– $31 – Another oldie but a goodie!

Little Tikes Bounce House

– $227 – Three years of bouncing and my kids still love this bounce house. We use in the basement in the winter and in the backyard in the summer.

Fisher-Price Racin' Ramps Garage

– $34 – This car ramp by Fisher-Price is great for little hands and imagination.

Radio Flyer My First Big Flyer Red

– $39 – A modern version of the big wheel of yester-year.