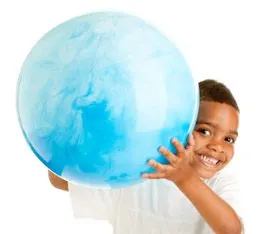 Has school called another snow day? Perhaps they're already bored with the new toys they've gotten over the holidays? Whatever the reason may be, I know how it is to be trapped inside with two kids that have endless energy and the weather outside is frightful. So last week, we decided to pick-up a ball and see what kind of games we could come up with to entertain ourselves for an afternoon of FREE FUN (when was the last time that FUN was FREE?!). Here's a few of the games that we came up with and had so much fun playing and it just wouldn't be fair if we kept them to ourselves so we hope you enjoy…!
Bowling Ball — set-up an indoor bowling alley with stuffed animals as the pins. Roll the ball being careful not to get stuck in the "gutters."
Air Ball — Lie down on your backs and put your legs up in the air with the ball between your feet. Try and play catch with each other with your feet.
Magic Ball — play hide-and-go-seek with the ball. Hide it somewhere in the house and go on a treasure hunt looking for the ball. Up the ante with prizes like M&Ms for whoever finds it first.
Launch it — using a towel and a beach ball, launch the ball to each other and catch with the towel.
Broom Hockey — in honor of one of the best winter sports, I did allow a little broom hockey this past week. Kid-sized brooms are best so there's no broken dishes or noses!
Draw on it — beach balls actually make a great canvas for drawing. Much like a dry erase board, use washable markers and draw on it then give it a bath and start over again.
You could always just play soccer or catch, but what fun would that be? What's your favorite ball game?