Last fall, I saw a Kickstarter project that I fell in love with. If you don't know about Kickstarter, it is a website where people with great project ideas can ask for money to help fund their plans. The project that stole my heart was called GoldieBlox and the Spinning Machine. GoldieBlox is a game/toy/book combo aimed at girls aged 6 and over who are interested in engineering. Designed by a female Stanford engineer who remembers a childhood lacking in games that fed her interests, this game was made to fill that void in the toy world. It is a game that focused on construction and engineering, but presents it in a way that engages girls and the way they play. Only 11% of engineers are women and girls start losing interest in science as early as age 8. GoldieBlox wants to put a stop to that!
I have a daughter who, while she is under 6, is clearly an engineer at heart. I will never forget when I found her lying underneath her younger brother's jumperoo oil-change style. When I asked her what she was doing she said, "I just need to figure out how this thing goes together. " She had just turned 3.
I donated money to the GoldieBlox project and pre-bought the game. It arrived just before Easter and I could barely wait to give it to my daughter as a gift. I mean, I was seriously considering playing it by myself after the kids were asleep. I held out and let my daughter and husband play the inaugural game together on Easter afternoon. It was a smashing success!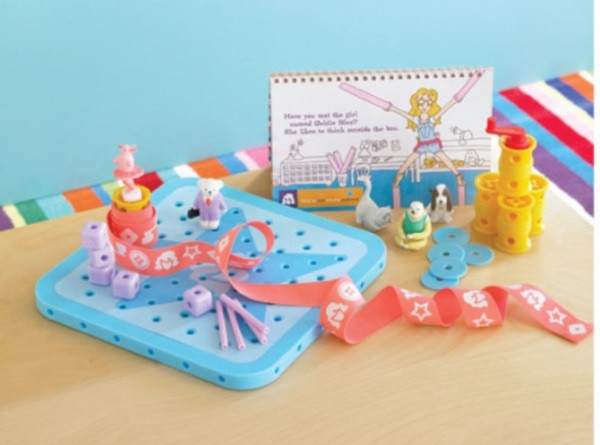 The game is officially called GoldieBlox and the Spinning Machine. The recommended age is 6 and up, but my 3 year old had no trouble playing the game and following along with a little guidance. Every child is different, but there are no pieces that I saw that would be dangerous for a 3 year old to handle. The under 3 squad should stay away because some of the pieces could be choking hazards.
The box includes a spiral bound book, a peg board, 5 figurines, 10 axles, 5 wheels, 5 blocks, 5 washers, a crank, and a ribbon. All the plastic pieces feel well constructed and solid. Most of the pieces are pastel colors with pops of a brighter yellow from the wheels. The color palate is appealing and modern. The book is spiral bound, which in my head means pages that easily tear out, but it really is the best option for a game that requires reading and game play in tandem. For a spiral bound book, it feels very sturdy.
Once you get all the pieces out and unpacked, it is time to play the game! The way you play is that you read the book and the story guides your use of the pieces. The story is that Goldie wants to build a spinning machine to help her dog, Nacho, chase his own tail. Soon, a whole cast of characters, including Benjamin Cranklin (the cat with an attitude), Katinka (the dolphin ballerina), Phil (the sloth), and Flavio (the bear from Brazil) want to spin. Goldie has to build a belt drive to get them all moving!
The book itself is a fairly straightforward story. It starts off with Goldie trying to get Nacho to spin so you put together a basic belt drive with the Nacho figurine on top. Then you add the characters one by one, moving the pieces around to get them all moving together. One side of the pages has a basic story with the easiest way to make the belt drive. When your child starts finding that method easy, the back sides of the pages include more serious challenges. There is also a lot of flexibility with the pieces so the only real limitation to the ways to make the characters spin is your own kid's imagination.
My daughter really loved this game. It sounds cheesy, but the first time she got it all to work her eyes totally lit up. She was so proud that she was able to make it work! The way the story and the pieces tie together really caters to the way girls play. As the designer said, girls aren't just interested in "what" they are building…they want to know the "why" as well. My daughter doesn't just build towers to build them. She builds towers because Mr. Bunny is a doctor bunny who needed a new office because his old one was too small and on and on…
Another pro for the game: the figurines are super cute. After my husband and daughter had made two or three versions of the spinning machine my daughter ran off with Katinka and Nacho and incorporated them into her other play. To me, this means a couple of things. First, she really was engaging in the story because the figurines had become characters in her mind. Second, even if she hated the game she would have 5 new little critters to play with!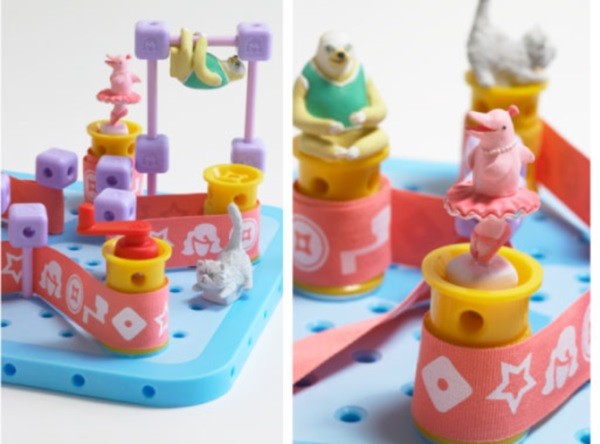 The only real downsides of the game:
– I wish the box came with a way to store the pieces after you take them out of the packaging. There are a lot of parts and if you lose any of them the game just won't work properly.
– There was some confusion in our house about where the washers should be used. If it had been clearer in the book, there would have been less of a discussion between the 3 year old and her dad.
The game costs $29.99 and can be purchased at www.goldieblox.com. The designer hopes to turn this first book into a whole series of stories and engineering concepts. If the future versions are anything like this one, you can sign me up!