Good for the Modern Mom's Time-Out #NetflixKids
When Netflix came to me and asked me to be part of their #StreamTeam last month to help introduce new shows and features to you guys, I figured that they had to be reading my diary… or bugging my living room. Either way, my slight obsession with catching up on popular TV series that I missed between 2007 and 2011 (while I was having babies and toddlers) must have crossed their radar.
Netflix is like my drug dealer. Giving me what I want when I need it.
2am in the morning and in need of a Scandal fix?
Netflix is there for me.
3pm slump during the day and need to perk up with the next episode of House of Cards?
Netflix has my back.
I have no time to schedule my life around the TV network schedule. My whole life is scheduled with carpool, tennis lessons, gymnastics, doctor's appointments, meetings…you name, it is scheduled. I need to watch great shows when I have time. On MY schedule. Not when ABC says that I should watch them. Sure, I could DVR my current TV faves (which I totally do!) but when you have been MIA in TV land for a few years and didn't watch the first season of a show that is on season 5, DVR is no help!
Netflix is the modern mom's answer to keeping up with popular TV.  Sure, my kids watch Netflix on the iPads and our iPhones when we are traveling or need a little quiet time such as waiting in an office, but it is just as important to moms. I don't know about you, but one of the ways I unwind after a long day with the kids is with a glass of wine, on the couch, catching up on a TV series.
Plus, it is all commercial free! Sometimes I barely have time to sneak in an episode of Orange is the New Black, so I certainly don't have time for commercials.
When I need a break from the "TV series catch-up", I turn to the selection of movies. Tons of movies both old and new that are perfect for family movie night or whenever I'm looking to relax on the couch and can't stand one more minute of my husband trying to watching one of those mining gold reality series. Can we all just say enough with the fishing and mining gold series already?!? Can that TV fad go away now?
So, when this mom needs a TV time-out after the kids go to bed, I have to say that I turn to my dealer, Netflix.
Do you have a favorite show that you watch on Netflix?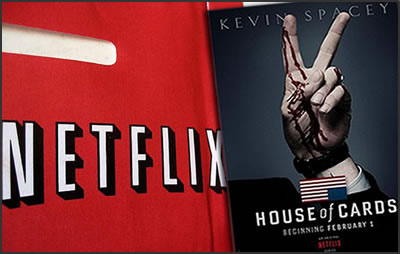 Disclosure: I am a Netflix "Stream Team" ambassador. As always, all my thoughts, opinions, statements and love of Netflix is totally my own.