Goodbye Blue Sour Unicorn, Hello Sweet Pegasus Frappuccino!
Did you join in the Starbuck's Unicorn Frappuccino fun last week?
It took social media by storm and one of my Starbuck's barista friends said she concocted roughly 500 of the exclusive frappuccino during just one of her shifts! Talk about a $5 phenomenon.
Moms took their kids for after school sugar highs, unicorn loving Instagram girls sipped and smiled, and we can't forget the LulaGirls who ran to try out their token mascot! After hearing reviews of the overwhelming sour and crazy sweet drink, I personally decided to pass. Plus, no coffee?!?
But the Unicorn Frappucino birthed something 10x better. Something I'm actually considering the calories and sugar content for! And, something that just might stick around on Starbucks' secret menu (while ingredients last, of course). It's called the Pink Pegasus Frappuccino and it came from none other than the magical land of Disney!
During the Unicorn Frappuccino debut, the Downtown Disney location ran out of the blue ingredients. But rather than place a giant "sold out" sign on their Unicorn displays and disappointing the Disney crowd, a genius barista slightly modified the drink – no more sour blue, just white mocha, raspberry and pink powder. They dubbed it the Pink Pegasus Frappuccino and everyone who sipped it whistled a happy tune because it was actually delicious!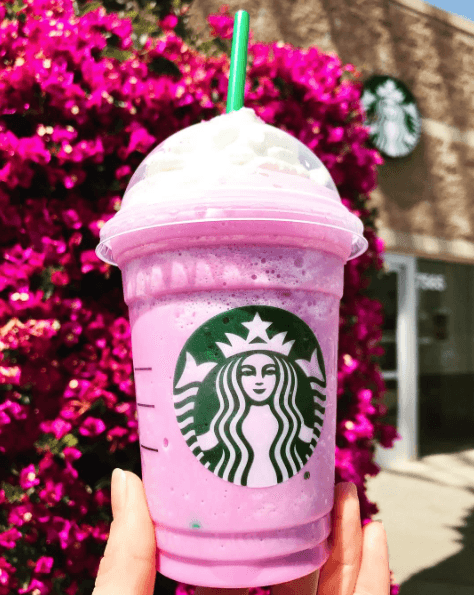 Without the sour ingredients, the Pink Pegasus might actually be a sweet treat worth drinking! If you're on your way to Downtown Disney, be sure to join in the Pink Pegasus fun, or, at least swoon over the #pinkpegasus hashtag! Supposedly this drink is exclusive to Downtown Disney and available for a limited time but if you have a creative barista at your local Starbucks see if they'll try their hand at recreating the Disney magic now known as the Pink Pegasus Frappuccino!