We've all been there. Trying to get something unique for a friend's baby shower. It's okay to go straight from the registry but that's so….ummm…predictable. Sometimes the registry is better off left for grandma and the rest of the family but not you! You might just want to get something fun that will be the most unique gift at the shower. We have just the thing – the Blooming Bath Baby Bath.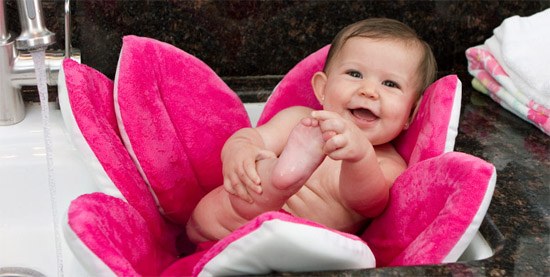 Don't tell me that this is the darn cutest thing!! Yep, it's a baby bath! How much cuter is this Blooming Bath than those big, ole' plastic bathtubs that are space hogs?!
It's cute, it's cuddly, it's convenient! Blooming Bath is a soft insert that fits perfectly into any sink for a safe, comfortable and adorable bath-time experience. When your baby grows and graduates to a tub, Blooming Bath does too: No more slipping around in a big, slick bathtub — Blooming Bath keeps your baby's bottom right where it should be. The Blooming Bath is made with safe and soft fabrics, durable Tricot mesh back and antimicrobial foam so it dries quickly and easily. When bath time is over, just throw it in the dryer (for 10-15 min) or hang it by the hangtag so it is dry in no time.
The Blooming Bath comes in three fun colors (pink, yellow and blue) so this isn't just a bathtub for girls! If you want to be the hit of the next baby shower, definitely take a look at getting the Blooming Bath Baby Bath! Cutest. Baby Bath. Ever.

Shop Blooming Bath Baby Bath HERE