A Great Game For Preschoolers … Spot It! Jr.
Do you have a mini game lover in your home?
My almost 5 year old daughter is always on board with game night. And my 3 year old son is loving the chance to join in when he can too. We've played countless rounds of Memory and Guess Who? and lately I've been on the look out for something fresh. Bonus points if it is something they can play alone, together 🙂
My best friend came to the rescue with her introduction of Spot It! Jr. It's the perfect game for preschoolers and one that is fast becoming our favorite!

Here is the gist … each person playing gets one circle card. The rest go into the middle pot. Your goal is to match an animal on your card with an animal on the center card. The first person to see a match and announce it wins that card. The winning card now becomes the top card and you begin a new round.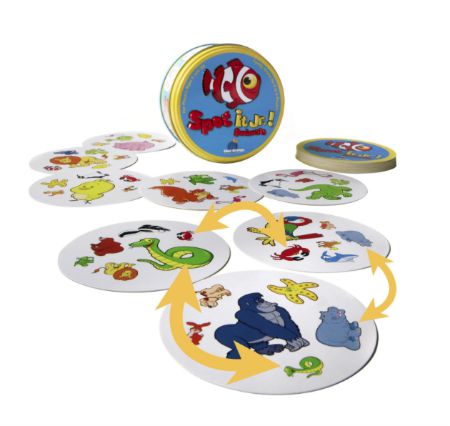 Spot It! Jr. teaches visual perception, focus and reaction time. All great skills for little ones to practice. And, at the end of the game, they get to practice counting how many cards they acquired into their stack – usually between 10-20, a hard category of counting for many preschoolers. So again, great practice!
Spot It! Jr. is recommended for 4+, but I've seen success with 3 year olds playing too. As a mom, my two favorite things about this game are the price point, less than $10, and how compact it is! I toss the cute tin in my purse often for games on the go!