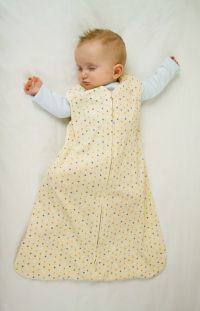 Halo Innovations not only has your baby's safety in mind but also the environment. Some of their SleepSacks are now available in organic cotton. These wearable blankets are made of 100% organically grown cotton that is free of chemicals, dyes and preservatives. Just to clarify because we weren't sure what it meant either, organic cotton is grown by organic farmers who use biologically-based rather than chemically-dependent growing systems to raise crops. This is great considering recent reports have cited conventional cotton farming as one of agriculture's most environmentally destructive activities because of the toll it takes on the air, water and soil.
Halo SleepSacks are a convenient, wearable blanket that eliminates the need for loose blankets in a baby's crib. Since loose blankets are a SIDS risk, we are big advocates of using these SleepSacks. These blankets are easy to put on and take off and even have an inverted (zips from top to bottom) zipper for easier diaper changes in the middle of the night. (Anything that makes the middle of the night easier, makes us a fan!) The inverted zipper also prevents baby from getting poked in the chin when the blanket is zipped up and makes it harder for older babies to unzip.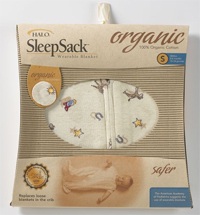 The SleepSacks come in a variety of sizes so there is one to fit every baby. Since the bottom of the SleepSack is wide, there is plenty of kicking room so that she won't feel confined in her blanket.
Another reason we love these SleepSacks, besides they are good for the environment and are easy to use, is we like to sleep in a cool environment bundled in our covers in our bed. Unfortunately, our babies can't sleep this way so a SleepSack is the answer to keep our babies safe and warm at night.
SHOP HALO Organic Sleepsacks
SHOP ALL HALO Sleepsacks