Holiday Gift Idea: Simon Swipe (VIDEO)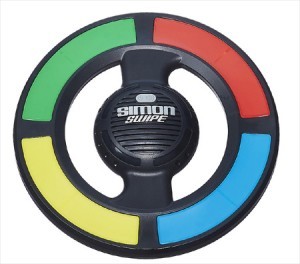 While we usually do toys and gift ideas for the younger crowd, today we are spotlighting a toy for the kids over 8. Simon Swipe is an addictive toy, not only for kids, but for teenagers and adults too! It's a spin on the traditional Simon toy of yesteryear: it now has the added feature of swiping and the ability to play with a friend.
In true Simon game style, it starts out easy but then goes up to 16 fast-paced levels. There are four games to choose from and you can choose to practice on your own or challenge a friend.
Our 9 1/2 year old Baby Gizmo Lil Tester is obsessed! Watch as she shows you how Simon Swipe works in today's Baby Gizmo video below.