Every year in December my family gets together for a progressive dinner. Basically that means we house hop and eat something at each family member's house. It gives us a chance to see everyone's Christmas decorations and it's a great excuse to get together and stuff ourselves silly with delicious food.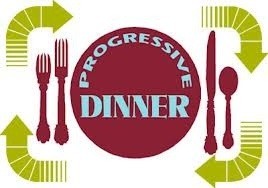 One house will serve appetizers, the next house will serve soups and salads, main courses at another, and desserts at the last house. Depending on how many families and houses you have, you could completely change this up to your liking. You could add drinks to the menu, a second appetizer course, or anything really. Each family is in charge of putting the menu together and everyone helps out.
At the last stop we hold a big raffle. Every person brings things to share at the raffle. Homemade treats, small gifts from stores, handmade treasures your children make, again anything goes. Everyone makes a donation to a cause we choose as a family each year. You could donate to a church, to the Humane Society, to fund breast cancer research, or anything that is important to you and near and dear to your heart. After everyone makes a donation, everyone is given tickets for their donation and can put them into any items they hope to win. We pull tickets for each item and everyone goes home with some cool new prizes and delicious treats plus we give money to a great, charitable cause. The little kids in my family especially love this. They get so excited to win prizes and I think the donations teach them the meaning of Christmas and the importance of giving back.
The yearly Progressive Dinner is one of my most favorite Christmas traditions. If you're looking for a new way to celebrate, I highly recommend something like this. It's easy to do and it's a great way to get everyone together and to give back.
Have you ever joined in on a progressive dinner? Does your family have Holiday traditions? Leave me a comment and let me know.