School has finally started! Kids are happily back in their classrooms with their amazing teachers, fun friends and structured schedule that they thrive on. Last week when we visited our new school and met the kids' teachers for this year, we found out that my middle son's classroom has a severe peanut allergy and no peanut or tree nut products would be allowed to be brought to school with him. It's not the entire school, just those classrooms that have the allergy.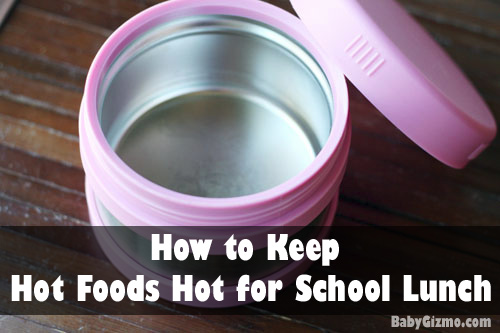 Believe it or not, this is the first year out of four that we've had the zero nut policy for lunch. The last couple of years were nut-free snacks but not the entire lunch. I know, I know, we must be the last family on earth to not have this, but this is a new one for us.
Knowing that peanut allergies can be life-threatening for children, we are happy to abide by all the rules. It's safety first for all students, for sure! So, since my son will be bringing nut-free lunches this year, we are having all three kids do the same so that there is no chance we would mix up the lunches.
I went to the Baby Gizmo Facebook community to get some ideas. Many moms suggested Sun Butter and other types of cold sandwiches and salads, while many others reminded me that you can easily send a hot lunch to school that is still warm by lunch. How could I forget?!? Three months of summer sure fried my brain because a thermos of hot food should have been my first idea!
Since I was searching for ideas, I know some of you might be as well. Today for "How to Monday" I'm sharing a tip on how to keep a hot lunch hot when you bring it from home. There's a trick! Take a peek at our How-to video below and let us know your school lunch tips and tricks!