HOT WHEELS Track Builder – 5-Lane Tower Starter Set
We like to have holidays on the brain, because we know that you need to know what are the hottest toys when you start your shopping. That doesn't mean that you have to start shopping for the holidays yet. That's just crazy talk! But when it is time to pick up the latest and greatest toys, just keep in mind our Hot Holiday Toy Videos. We will tell you what you want and need to know about the coolest toys that your kids HAVE to have.
Today, we are highlighting the new Hot Wheels Track Builder – 5-Lane Tower Starter Set. This is an easy to build track set made for Hot Wheels cars that keeps kids busy. While we are highlighting the starter set, there are many other sets to add to it to create a bigger and better track. One of our Lil' Baby Gizmo Testers had a lot to say about this set, the other sets and whether it makes a good gift or not that you'll have to hear in our video review below.
SHOP the Hot Wheels Track Bulder 5-Lane Tower Starter Set
NOTE: One important thing you need to know before even watching the video is what kids see on the box vs. what is in the box! (This is straight from a 7-year-old's point of view!) Just watch the video because he'll tell you more about it! 🙂 Disclosure: There is a small photo cutout that says "In This Box" but that definitely isn't what kids will focus on first. Just like our 7-year-old tester, they see the BIG picture of the entire track!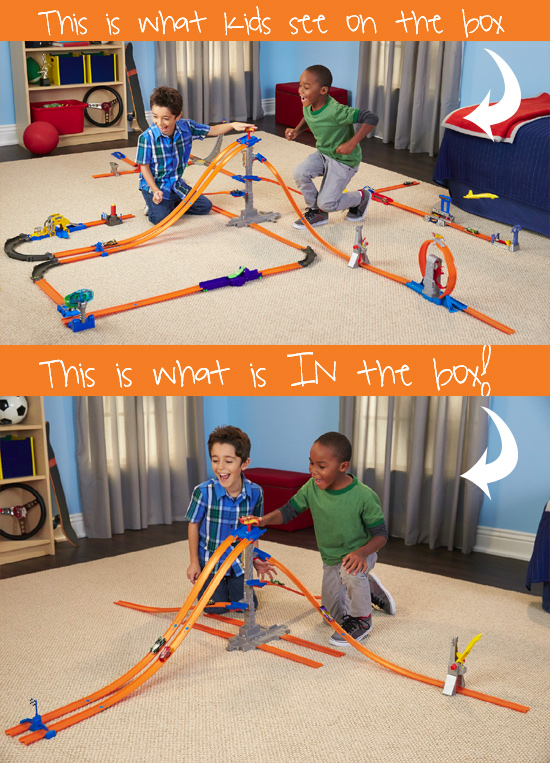 Disclosure: Thanks to Mattel for sending us the track set for review consideration. As always, all thoughts are our own.