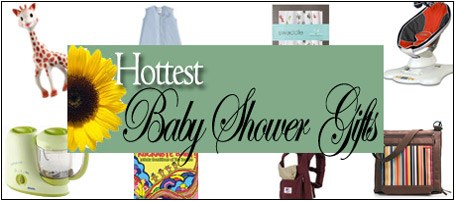 Picture this: You've just received an invitation to your first baby shower. Great! Registry information's all there…even better! You then go down to the store where the happy parents-to-be are registered at and you stop and stare. You're in baby land. There are people everywhere. Prego bellies trying to avoid other prego bellies down aisleways. A panic start to settle in, but you remember you have a registry to guide you! You're saved! You go and print out the 57,685,730,705 pages long registry list and that's when you REALLY panic. Bottles? Jumpers? Mattresses with various coil counts? Where are you, you-generic-sounding-item-listed-here-with-no-photo? Then your eye focuses on a cute outfit and you say to yourself, "Gee, I'll just get a few outfits! Babies outgrow them so fast anyway and that is just WAY too cute to pass up (If you're a male reading this, you've already skipped the cute outfits and have headed for the nearest checkstand with token loadable gift card in hand)!"
Okay, so maybe I'm exaggerating things a little bit here, but the point is, buying a gift can be difficult. You want to get the right gift and you want it to be useful, but the selection to choose from is wide and varied. And if you've never attended a baby shower before, it can be even more confusing. Luckily for you, I've been around more baby showers in the past couple of years than I care to mention! Let's just hope I can steer you away from that cute outfit (I'm only half-kidding). Here are some top choices from popular categories to fit every budget!
Under $20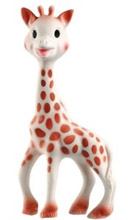 I have a confession. My child does not care for Sophie. I wanted to love Sophie, truly, I did, but my kid doesn't care for most of the things I buy him and so he is not a fan of Sophie. However, many moms swear that this is the best teether ever, buying two or even three just in case Ms. Sophie gets lost. I will say this about Sophie though, I love her legs. They are perfect for little mouths to gnaw away at. And it has a little squeak if you squeeze it just so. And it's cute! 
–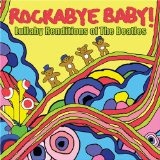 A CD from Rockabye Baby
This is probably something that most wouldn't think about, but baby music can be…well. Annoying. There, I said it. But, it doesn't have to be! There's (hopefully) a CD to suit the parent's taste out there somewhere. We keep Guns 'n Roses in the car and Journey in the nursery. Takin' the midnight train goin' to Paradise City!
–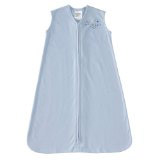 HALO Sleep Sacks
Sure, you may feel like you're giving someone a potato sack for their baby, but since blankets are a no-no in the crib due increased risk of SIDS, these will keep baby completely covered and warm.
–
Bottles
Any set of bottles on the registry will do. Many parents will go through tons and tons of bottles to find the right one for their little one. I went through 3 before my child settled for these.  
–
Under $50
A Case of Diapers (or a package of cloth diapers/inserts, should the parents prefer cloth)
Why is this a hot choice? Because babies will go through many (moms know the phrase 'poopsplosion' very, very well). And, (with disposables at least), if a box is unopened, the parents can switch them out for a bigger (or smaller) size as needed.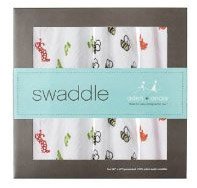 –
A good swaddling blanket goes a long way. These are some of the best out there!
–
Skip Hop Central Park Outdoor Blanket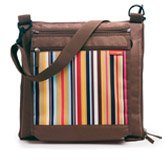 These travel blankets will be good for the new mama for years to come!  Great for taking baby to the park at the beginning…then preschool playdates…all the way to grade school sporting events!  These blankets are one of those items that are still useful even after baby grows up.  This 5′ x 5′ water-resistant blanket even features an insulated cooler bag to chill snacks and drinks!
–
Diaper Pail (I have the Diaper Genie Elite II)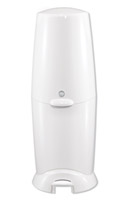 Diaper pails are an invaluable piece of equipment in the nursery. They keep most stenches at bay (parents will find that there are some messes that just need to be removed immediately from the premises) and are convenient; especially when you have to do 3 diaper changes in the space of 10 minutes…you'll see.
–
Under $100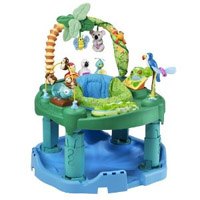 Exersaucers
Why not a jumper or a walker you ask? A. Walkers are actually bad for a baby's leg and motor skills development, recent research shows. B. Research also shows that jumpers should really only be used 20 minutes a day. C. The verdict on exersaucers is still up in the air (and thus, in my sleep deprived mind, makes it the best choice out of the three. Work with me here.). I like exersaucers because they possibly will last a bit longer than your average walker or jumper as most walker/jumpers on the market are rated up to 25lbs, while exersaucers are rated for a maximum height of 30″ or 35lbs.
–
Play Gym (my favorites come from Baby Einstein)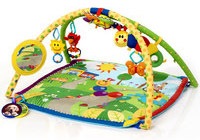 Play gyms are great for keeping little babies entertained right up until they start becoming more mobile (i.e. when rolling becomes more of a vehicle to get from point A to point B). They also provide a nice surface for 'tummy time'.
–

Under $200
ERGO Baby Carrier or Beco Baby Carrier 
Baby wearing is quite popular these days. These two share very similar properties and will allow you to carry a child well into toddlerhood in style and comfort. No rings to adjust, no wraps to unwrap, just insert, snap-on and you're on your way. Your mom-to-be's back will thank me later.
–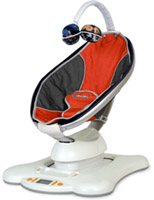 mamaRoo by 4moms
I LOVE this thing. I really wish it was available when my child was born. It's just too cool. Check out Baby Gizmo's video review of the mamaRoo here.  It mimics several motions that parents use to soothe their baby to sleep (no vibration or swinging here!).
–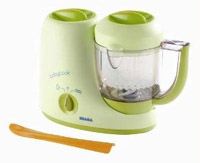 If you have a mom who loves to cook, this is a great item. You steam and puree your food all in one, small package. Very convenient and easy to use (the baby can eat the same dinner you're having!).
–
Angel Care Baby Monitor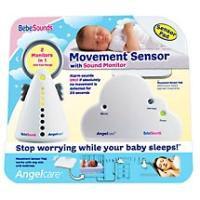 This is a unique monitor in that it senses if the baby hasn't made a movement in 20 seconds. The only downside to it is if the baby moves off the sensor pad (but by the time a baby is able to move off the sensor pad, the risk of SIDS has been reduced), you'll get a false alarm, but for peace of mind, this is an excellent choice!
–
Is your budget over $200? Hi, I'm Ann—let's be friends! Just kidding! Anything above $200 is probably a big ticket item (stroller, car seat, crib etc.), so choose from the parents' registry.
Hopefully this guide has helped narrow that long, long list of baby items! If not, at the very least, I've given you a few options before you decide to head to that cute outfit! And if you're REALLY set on buying a piece of clothing, may I recommend Snap-on Shirts? They may not fulfill the 'cute' factor, but these are invaluable for newborns to help speed up the process of drying out the umbilical cord stump and make for fast and easy shirt changes in those first few months! Happy Shopping!
-Contributed by Ann