Hottest New Baby Gear as Seen on WGN TV
This morning I did a segment on WGN TV in Chicago all about the hottest and most anticipated new baby gear for 2013. This year is going to be a huge year for baby gear. From new strollers to car seats to innovative playards, new parents are going be over the moon with the newest and most anticipated baby gear coming soon. Below are the products that were featured in the television segment and where to purchase them.
1. ERGOBABY WINTER EDITION
This chic baby carrier is perfect for all the Chicago mamas and babies! On the coldest Chicago days, your baby stays cozy in a quilted lining with luxurious sheepskin trim. Mom's hands stay warm in the removable quilted muff, which features matching sheepskin trim. When the mercury rises, just remove the lining and muff, and you have a stunningly simple lightweight carrier, all in white. The ERGObaby Winter Edition is available now and retails for $195. For more information and/or to purchase the ERGObaby Winter Edition go to: ERGO BABY WINTER EDITION
2. BOB MOTION STROLLER
Parents looking for the quality of a BOB stroller but in a lightweight, less expensive package for everyday strolling will be excited about the BOB Motion stroller debuting this month. The Motion is the first four-wheel stroller for BOB, the leading manufacturer of high-quality strollers for active families. With a weight capacity up to 65 pounds, the Motion has durable pneumatic tires, a rugged independent spring-suspension system and an extra large canopy. The BOB Motion is available now at REI and retails for $349.
To watch our full Baby Gizmo BOB Motion Video Review, go to: BOB Motion Video Review
3. NUNA LEAF – Inspired by the carefree float of a leaf on a breeze, the Nuna LEAF child seat treats baby to a sweet ride with its distinctive design. This motor-free seat is truly an original that grows with your child. A revolutionary chair that starts out as a gentle swaying infant seat for your newborn but with a whopping 130 lb weight limit, it will be a fixture in your home as your child grows. It features a mesh backing for breathability and comfort, an organic cotton insert and chemical-free fabrics. The Nuna Leaf is available now for $220. For more information and/or to purchase the Nuna Leaf go to: NUNA LEAF
To watch our full Baby Gizmo Video Review go to: Nuna Leaf Video Review
The Leaf isn't the only fabulous new product from the new-to-the-US Dutch company, Nuna. The smart design of the Nuna Sena will have parents swooning over this design that eliminates frustrations often associated with travel cribs and playards. The chic Nuna Sena comes in a full-size and a mini version and thanks to the clever zigzag leg design–it pops open easily into a soft, sturdy sleep or play space, and then refolds with just one hand for a quick getaway the next morning. Another cool and unique feature of the Sena is that it is the only "cot" that has a bassinet portion that folds with the frame. The Nuna Sena is available now and retails for $219. For more information and/or to purchase the Nuna Sena go to: NUNA SENA
To watch our full Baby Gizmo Video Review, go to: Nuna Sena Video Review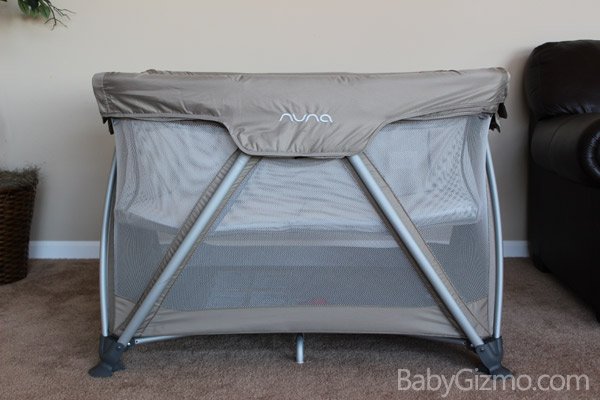 5. UPPABABY MESA
The National Highway Traffic Safety Administration states that 75% of car seats are used incorrectly. The UPPAbaby MESA infant car seat combines the safety, functionality, and ease of use parents and babies need to feel protected and reassured. The MESA is the only infant car seat on the market that uses SMARTSECURE™ System, a unique technology utilizing a tightness indicator and self-retracting mini LATCH connectors for a quick, accurate, and easy installation. The UPPAbaby Mesa will retail for $280 in the Spring. More information can be found on the UPPAbaby Mesa at: UPPABABY MESA INFANT CAR SEAT
To watch our full Baby Gizmo Video Review, go to: UPPAbaby Mesa Infant Car Seat Review
6. CLEK FOONF
The Clek Foonf is said to be the mother of all car seats! The car seat with the funny name is one of the most anticipated car seats of the year. This new convertible car seat features a built-in revolutionary REACT Safety System that reduces the forces transmitted to your forward-facing child in a frontal collision by up to 40%. This seat is all about the crumple zone, the area that is designed to deform and crumple in a collision. The crumple zone absorbs energy in an impact, preventing it from being transmitted to the car seat passenger. The Clek Foonf is available now and retails for $475. More information and/or to purchase the Clek Foonf go to: CLEK FOONF
To watch our full Baby Gizmo Video Review, go to: Baby Gizmo Clek Foonf Review