I have been a complete workout freak…ummm, fanatic… since my days as a teen gymnast. I was the kid who woke up at 6am to run before school. Whether it was smart or not, I went through phases where I ate very little in high school (think a diet of jello and apples) all in an effort to lose weight and fit the image of your typical gymnast. Sure, I had the muscle but I also was a little stockier than my stick thin gymnast friends I longed to look like. I even had a coach that sat me down when I was 16 in the prime of my attempt to live on jello and apples alone and tell me that I needed to drop some poundage. I can still hear the conversation in my head and I remember thinking "how can I eat any less than I already eat?"
This gymnast phase of my life started a life-long (at least so far!) obsession with staying in shape. I can't remember a time in my adult life that I have gone more than a week without some form of formal exercise – hitting the gym, running or doing a workout video.
Fast forward 12 years from my days as a gymnast and you'd find a panicked, newly pregnant mama-to-be. Was I panicked about being a mom? Kind of. Was I panicked about giving birth? Hellz yeah, but that is a completely different post. One of the things I was most panicked about was gaining weight though. In my head, I was about to undo everything I had done in the past 15 to keep in shape in the matter of 9 short months.
What the hell was I going to do?
I knew starving myself was not an option. I was panicked but not an idiot. I knew I was going to do what was best for my baby no matter what I did even if it did mean gaining weight.
I decided that I would continue my workout regimen throughout my pregnancy as best I could but I would listen extra close to m body. How hard could that be, right?!? I thought I would hit the gym and run my usual routes up until giving birth. No biggie. I told my sister that I'd be back in my skinny jeans right after having a baby and I really believed that. Those cute capris that hung on my hips would fit the next summer, I was sure of it. My sister smirked and said "sure, go for that."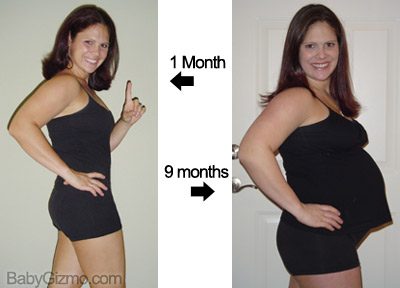 I was in shape. I was a workout junkie. I could do a little old pregnancy and stay in shape. Pow!
That is until I was about 6 months pregnant and I unexpectedly found myself out of breath climbing a set of 6 stairs.
Seriously, SIX stairs?!? That is all it takes? No one told me about this? Heavy breathing after six stairs?? Maybe I wasn't in that good of shape after all, I would tell myself. Crap!
I just kept at it. Eating heathy but definitely enough to nourish my unborn baby. I exercised 4-5 times a week. That is easy to do when you have no other kids to tend to. I was that 8 1/2 month pregnant lady walking on the treadmill. Sure, I was huffing and puffing but I was staying active.
I was very proud to have gained a very respectable 25 lbs by the time I had the baby. I figured that weight would literally melt away since the baby was going to be…what 15-16 lbs of that weight? (yep, delusional me!)…and breast feeding would tackle the rest in a matter of weeks.
Doesn't that sound sweet? Yeah, that fantasy ended the day I went home from the hospital with my sweet baby girl still looking 7 months pregnant.
Really?!? That baby was out and the big belly was still there. Not cool! And to make matters worse having a c-section prevented me from exercising for 8 weeks…not that I had the energy anyway.
Why didn't anyone pull me aside pre-baby and tell me that I would still look pregnant after the baby? Is there a conspiracy among moms not to reveal this to expectant moms. The celebrities bounced back!! People Magazine wouldn't lie to me! They are my friends! 🙂
After reality set in, I realized it was all okay. I had a beautiful baby and it was worth the extra jiggle, flabby skin and not fitting in my skinny jeans. I was in the Mom Club and THAT was worth it.
I didn't succumb to just being that way but I didn't beat myself up when the weight didn't melt off. I started exercising and Weight Watchers after my doctor gave me the go-ahead. Eventually I did lose the baby weight. I didn't break any speed records but I was looking more like myself by 6-9 months post-partum. That was okay to me. I was exercising. I was eating healthy (well, healthy as I could…I still enjoyed my desserts from time to time). I was healthy…a little squishier than before…but healthy. And my daughter was perfect! It was all worth it.
So, whether you are an expected mama worried about gaining weight or a new mom that is a little squishier than you were before, let me tell you, it's all okay! We all go through it and eventually you'll look like you again. Maybe it will be a more "mom-looking" you, but that precious baby that you did it for makes it all worth it.
I wrote this post about my first pregnancy experience to help celebrate the release of the new film WHAT TO EXPECT WHEN YOU'RE EXPECTING.
Inspired by the perennial New York Times bestseller of the same name and the first book in a series that has sold over 32 million copies worldwide, WHAT TO EXPECT WHEN YOU'RE EXPECTING is a hilarious and heartfelt big screen comedy about five couples whose intertwined lives are turned upside down by the challenges of impending parenthood. The cast includes huge stars like Cameron Diaz, Jennifer Lopez, Elizabeth Banks, Chace Crawford, Brooklyn Decker, and more!
Fitness guru Jules (Cameron Diaz), is a hard-working and active mom- just like Hollie from Baby Gizmo. Jules balances a high-octane celebrity lifestyle that gets turned upside down by the demands of pregnancy and a new baby. Check out this kaleidoscopic comedy, coming to a theater near you May 18th.

Disclosure: Compensation was provided by Lionsgate via Glam Media. The opinions expressed herein are those of the author and are not indicative of the opinions or positions of Lionsgate.