This is a sponsored post. Thanks for supporting Baby Gizmo.
Summer is back again which means more time outside, at the beach, the pool, and at the park. Not only is the weather heating up, but it's travel season, which means more road trips, beach vacations and outdoors.
Summer is all about fun, outdoors and vacations but did you know that summer is also Diaper Rash Season? Yep, all that extra moisture hanging around in the diaper region from sweat, swim diapers, maybe not-as-frequent diaper changes and more, makes the perfect storm for a diaper rash to creep up and ruin summer fun. If baby ain't happy, then no one is happy.
We have the solution on how to be prepared for it! Make sure the doctor is always with you! Yep, Dr. Smith's diaper rash products (whether you fancy the spray or the cream!) should always be in your diaper bag, beach bag, pool bag, vehicle baby emergency kit and pretty much any bag that goes with baby. Dr. Smith's not only helps treat diaper rash FAST, but it also helps prevent diaper rash.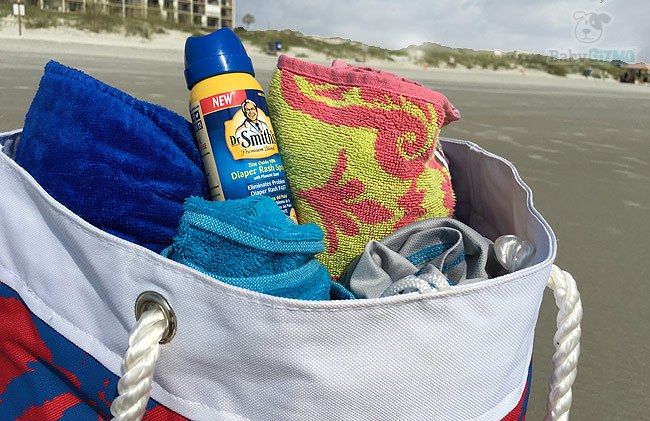 Dr. Smith's is a pediatrician-developed diaper rash treatment that comes in an ointment and a handy spray application. Some of our Baby Gizmo mamas swear by the Dr. Smith's Diaper Rash Ointment made with a creamy blend of premium ingredients and others love the touch-free Diaper Rash Spray that keeps your fingers clean. Either way, you'll be keeping diaper rash away!
Here are some great tips from Dr. Smith's:
Preventing and treating summer diaper rash
Keeping your baby's diaper area dry is the best way to prevent diaper rash from developing in the first place. This might mean regular diaper changes in sweaty weather, and letting him or her air out whenever possible. But remember to practice good sun safety! Infants and babies should be dressed in long, lightweight pants and shirts, with a head covering, if they are in direct sunlight. For infants over six months of age, you should use sunscreen on exposed skin.
If a diaper rash develops, here are your best treatment options:
Keep the area clean with a soft cloth and water. Don't use anything on your baby's skin that contains alcohol and resist the urge to use a lotion or cream that isn't intended for diaper rash.
Slather the affected area with a thick layer of diaper rash cream or spray. Look for a product that contains zinc oxide, or even petroleum jelly, and apply it like you're icing a cake.
Don't use very tight diapers that are likely to hold in sweat and moisture, which will only aggravate the condition.
Don't use talcum powder, cornstarch, or baby powder on a diaper rash. All of these fine powders can be easily inhaled.
Finally, if the rash persists despite treatment, call your pediatrician or make an appointment. This may signal a Candida yeast infection, which is typically treated with a prescription medication.
*Disclosure: This is a sponsored post. As always, all thoughts, opinions and statements are our own.