How to Make Chocolate Filled Strawberries
If you are looking for something yummy to make your sweetie (or your kids!) this Valentine's Day, you might want to consider this twist on the standard Chocolate Covered Strawberries. This recipe takes the chocolate from the outside and puts it in the inside making for a spin on one of our favorite treats.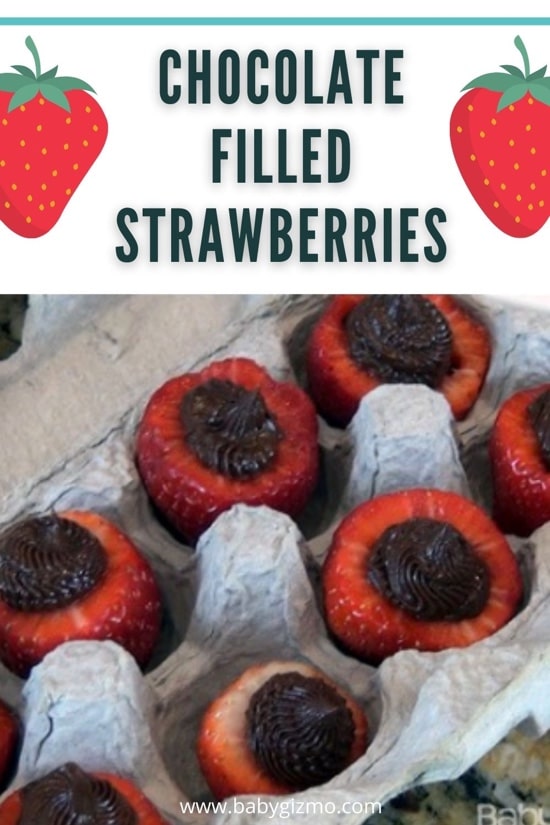 This decadent dessert is easy to make and even more delicious to eat. With just a few ingredients, you'll have something your valentine will love.
CHOCOLATE FILLED STRAWBERRIES INGREDIENTS
4 ounces chocolate (semi-sweet, chopped, about 2/3 cup)
1/2 cup cream (heavy)
12 large strawberries
DIRECTIONS
Gently heat the cream into a small saucepan over medium-high heat.
Heat the cream until it almost reaches a boil and bubbles are breaking on the sides of the pan.
Pour the hot cream over the chopped chocolate.
Wait one minute. Whisk cream and chocolate together until the mixture is shiny and smooth.
Let it come to room temperature.
While you wait for the chocolate to cool, prepare the strawberries.
Wash the strawberries and gently pat them dry with paper towels.
Use a small, sharp knife to cut a circle around the top of the strawberry to remove the stem.
If the strawberry doesn't have a wide opening inside, use the knife to enlarge the hole a bit. With the edge of the paper towel, try to dry the inside of the strawberries as much as possible and set into an empty egg carton.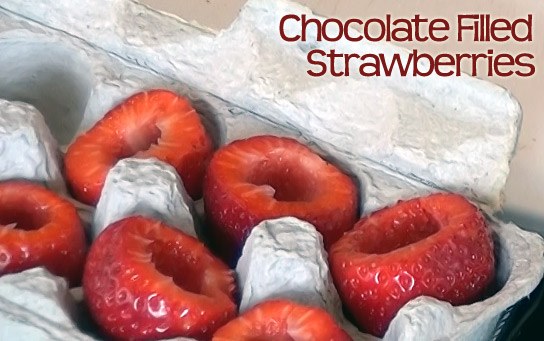 Pour the chocolate mixture into a piping bag with a 1/2-inch round tip. Or you can place the chocolate in a large zip-top bag and cut a small hole in the corner.
Squeeze the chocolate into the center of each strawberry until you form a peak of chocolate at the top.
Store strawberries in an airtight container in the refrigerator.
To see how easy these little gems are to make, take a peek at today's Baby Gizmo Video below:
We hope you enjoy this Chocolate Filled Strawberries recipe. For more desserts, check out Baby Gizmo Dessert Recipes.