How to run a household with a Toddler
How to run a household and mother a 15 month old wild child without going crazy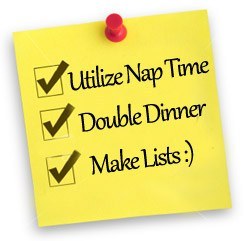 I'm not going to sugar coat this. Being a mother to a 15 month old wild child is not an easy task. Sometimes I want to scream and cry and pull out all my hair. All at the same time.
My son is the smartest and sweetest boy. But he's crazy. He is on the go from the moment he wakes up until the moment he goes to sleep. To say he keeps me on my toes is an understatement. Besides chasing after my son non stop, I also run my house and keep it in order.
I've been doing this for 15 months and still have my sanity. I've picked up a few tricks along the way and want to share them with you today in the hopes that it might help a few moms out there who think they're about to lose it.
1. Make peace with the fact that your house will never be perfect and your to do list will probably never be complete. Once you accept this fact you can focus on everything you CAN do and you'll be much happier.
2. Every time you make a meal for dinner, double it and put one in the freezer for later. It's no extra work to double ingredients if you're already making something and it saves a lot of time later when you can just defrost a meal and serve it!
3. Utilize nap time! Every time my son goes down for a nap, I go into work mode. I exercise. I clean. I do the dishes. You'd be surprised with all the things you can get done in an uninterrupted hour.
4. Stay on top of things. I find it easier to do one small load of laundry every morning. I don't sweat it if I miss a day but if I miss multiple days, my laundry is extremely piled up and its hard to catch up. Try doing a little each day to stay ahead of the chores.
5. Make lists. To do lists are my best friend. Grocery lists help me shop fast and organized and prevent me from buying a bunch of candy and things I don't need. Goal lists help me stay on track with my days and get everything done.
Being a stay at home mom is exhausting and tiring and sometimes very hard. It is also the best, most rewarding job in the world and I wouldn't trade it for anything. No matter how many times my son throws my stuff in the toilet.