How To Sneak in Exercise on Your Busiest Days
By Dana Pieper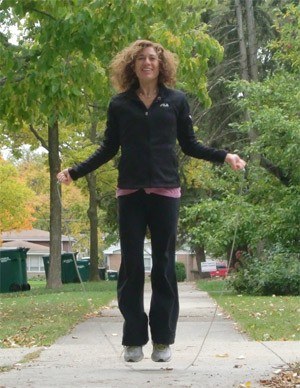 I recently heard about a fabulous first grade teacher who surprises her students with "sneaky recess" when the kids are well behaved or complete their lessons ahead of schedule. I love the idea of sneaking in something that's actually really good for you—it's empowering and energizing all at the same time.
If you are like most (ok- all!) moms I know, finding time to exercise can be a challenge to say the least. I have triplets so I totally get this. I also know that committing to a fit lifestyle is something you and your family need and deserve. Try some of these simple and sneaky tips to slip some exercise in throughout the day:
1. When you are in your car and you are stopped at a red light, put your hands on the outer edge of your steering wheel (the 3 and 9) and push inwards, creating an isometric hold of your chest and shoulders. When the light is green…release.
2. Shape your core by engaging core muscles in everyday movements: carrying groceries, putting backpacks in the car, picking up your kids, reaching for something across the table. This will sculpt your abdominal wall, while supporting your back.
3. Isometrically hold in your abdominal muscles while in the supermarket and see how many aisles you can go through before releasing.
4. Walk to the mailbox or post office instead of putting a letter in the mailbox on your front porch.
5. If you need to go to the grocery store for just a few items, consider grabbing a backpack and walking there. When you fill your backpack and walk back, you will have added weight to haul and will increase the intensity of your walk.
6. Go to the bus stop 10 minutes early to wait for your kids and bring a jump rope with you. Jump until that bus arrives! You might think people will stare, but they are just jealous!
Lastly, I'm going to emphasize how much music can motivate us to move our bodies. In the classes I teach, music is my most invaluable partner! Here are some fun songs for you to download and create a playlist to help you reach your exercise potential. The music will also lift your spirits, which can only help you run a positive and healthy household.
One More Night—Maroon 5
Whistle – Flo Rida
Everybody Talks – Neon Trees
Blow me (one last kiss) – Pink
Fist Pump Jump Jump – Ying Yang Twins
Drive By – Train
Hands in the Air – Timbaland
Home – Phillip Phillips
Good luck! Also, please be sure to check out my blog, Every-Body-Fitness.com, for other tips and my "Move of the Week" .
Dana Pieper is a fitness leader and innovator with a history of athletic and performance success. She has been on the move since infancy, applying her love of motion to competitive gymnastics, professional dance and theater. Dana's active lifestyle took an exciting but challenging twist when she became pregnant with triplets and found herself on hospital bed rest for 12 weeks. After the birth of Hayley, Casey and Abby, she faced the daunting task of overcoming atrophied muscles, exhaustion and limited free time to return to her prior level of fitness. She rose to the challenge, developing an extremely efficient interval training approach that combines cardio, plyometric and weightlifting moves, melting fat and dramatically sculpting muscles. Dana continues to stay in amazing shape exclusively by doing her Kickbox Challenge and Total Body Conditioning programs. She wholeheartedly enjoys motivating others and helping them reach their fitness goals. Her mantra: "If I can do it, you can do it."