How to Use Pinterest to Be a Better Thrifter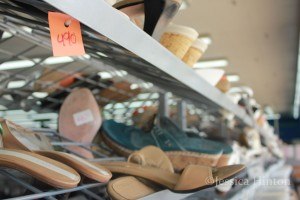 I'm an O.T., or Original Thrifter. I've been thrifting (thrift store shopping) since I was 13 years old. Then, or when I started, I was an amateur, a newbie. I bought lots of crap that looked good in the store with its unbelievably low price tag and that would end up, months later, in giveaway bags for the same thrift store.
But, now, almost two decades later, I've become a "seasoned" thrifter. I know how to find great steals because I know how to look for great steals.
And one of the ways that I've begun looking for great steals? Oh, well, with Pinterest, of course. Pinterest, beyond helping me find great recipes and craft ideas, Pinterest has been my newest tool to enhance my thrifting experience.
 So, how do I use Pinterest to be a better thrifter? Well, here's how.

1. I build my fashion board to reflect the kinds of clothes that I'd like to see in my closet. I make sure, when pinning to my board for the purpose of thrifting, to use simple descriptions that make sense to me. For instance, this pin is described as "pleated Maxi skirt."
After pinning my images, I create a shopping list of clothing styles to look for at the thrift store. I'm usually not specific about colors, but sometimes I am. For instance, last month, I really wanted a pair of red skinny jeans, kind of like the ones shown here:
After looking around for weeks, I found some at my local thrift store for under $5. You really can't beat that.
Shopping at a thrift store is fun, but can be overwhelming, especially if you don't go in with a plan. And this is why I only stick to what's on my list. If I can't find anything from my list, I go home empty handed.
That's it. It's really that simple. I do this same thing when shopping for my daughters at thrift stores. I think going this route, or the pre-planning, Pinterest route, if you are an avid thriftier, helps you to craft a more cohesive wardrobe that reflects your style and style goals.
Any other thriftaholics out there who rely on Pinterest to better their shopping experiences? Share your tips below.