Growing up my mom painstakingly took the time to cross stitch some beautiful stockings.  She even made my husband one when we got married.  I love them and really, really, really want to uphold the tradition in my family but Thing 1 is 4.5 and still doesn't have a stocking.  I refuse to give up the dream that I will one day cross stitch stockings just like my mom did but I am going to admit it will not happen this year and probably not next year either.  This all means its time to do some shopping and share my great finds with you.  Here are my absolute favorites.
These  Fairisle Stockings from PotteryBarnKids are adorable.  I love the cozy warm feeling the sweater design can give a room on a cold Christmas morning.  Comes in sizes 7″ x 18″ or 7″ x 27″.  Add a name for $7.
If you have some extra money laying around this Christmas season then the Garnet Hill stockings may just be for you.  As implied these stockings are a bit more then the others featured here but are considerably less if you order two and monogramming is included.  These stockings are 8″ x 27.5″.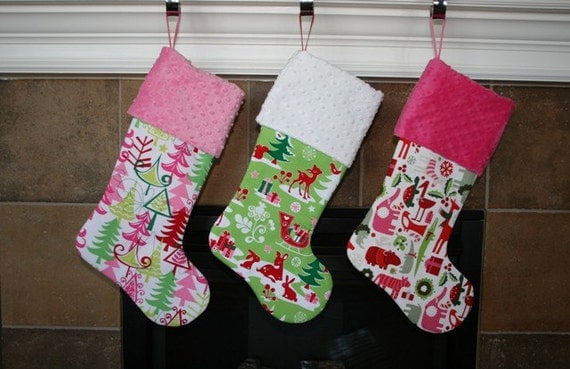 In an effort to stay close to my family's traditions I wanted to own handmade stockings even if they weren't from my own hands.  I found the most adorable patterns from this etsy shop: bebesniklefritz.  These stockings are 5″ x 20″ and feature a 5″ minky cuff.  As with most etsy products the stockings are customizable.  You can choose the pattern, the cuff color, the embroidery color and even add some fringe if you like.
I can't write a stocking post without giving a shout out to all the other cross stitch lovers out there!  My favorite designs are the ones from Dimensions.  The stocking above is a 14 count and would recommend that novice cross-stitchers like me avoid the higher count designs available.  The price for a kit is a third of the above stockings but the time investment is significant.  You can find a nice selection of dimension kits at Joann Fabrics or your favorite craft store.