iCoo Acrobat Stroller Travel System Review
There is a new luxury stroller on the market that we think you might want to know about. Meet the i'Coo Acrobat Stroller Travel System. This set comes with the new iCoo Acrobat stroller and iCoo ProSafe 35 infant car seat.
STROLLER
Just by looking that Acrobat stroller, you know it's different with the option of a copper colored or black matte frame and the color combos are like no other.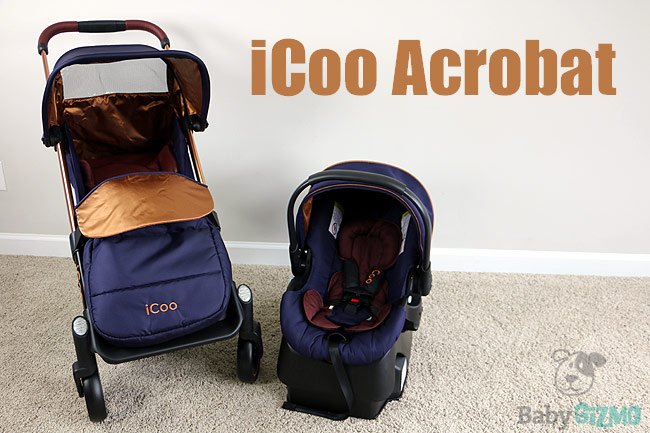 SEAT:
The seat accommodates up to 50 lbs and measures 14 1/2″ wide with a short 17″ seat back and a measurement of 22″ from back of the seat to canopy. It sports an adjustable, padded, 5-point harness with an easy to open buckle. The seat has a REAL leather (yes, not faux leather) baby insert and a leather baby bumper bar that is removable. It's important to note that on this lightweight stroller, the seat does not reverse.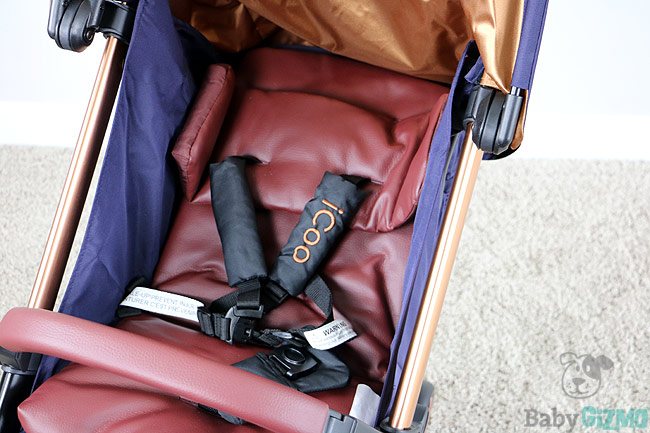 For a quick nap, the seat reclines back with a one-handed strap system but doesn't lie flat for newborns. If you'd like to use the stroller with a newborn, we suggest using it as a travel system with the infant car seat. An adjustable calf rest rounds out the notable features on the seat.
BASKET/STORAGE:
The basket is quite roomy and can be accessed from the back or sides of the basket. We were able to fit a medium to large diaper bag in the basket or a bunch of loose baby essentials. There is also a large pocket for baby or parent essentials on the back of the canopy.
CANOPY:
Speaking of the canopy, the Acrobat canopy is a decent size (we'd love to see a pop-out sun visor added!) and we love that it can fold down in front of the child to follow the sun. It also allows you to keep an eye on your little rider with the large peek-a-boo window on the back.
HANDLE:
The luxury doesn't stop there because the adjustable handlebar (38″- 40″ from ground to handle) is covered in real leather too and was inspired by a racing wheel. It's very soft to the touch and the one-piece handle makes navigating this buggy one handed a breeze.
WHEELS:
The iCoo Acrobat rolls on 7 1/2″ inch polyurethane wheels in the front and 6″ wheels in the back. The front wheels swivel 360 degrees but have the ability to lock straight for bumpier terrain.
FOLD/UNFOLD:
The stroller is easy to fold with one hand and even ends in a standing package. Weighing only 20.5 lbs, we found that is easy to transport and the compact package easily fits into a sedan trunk.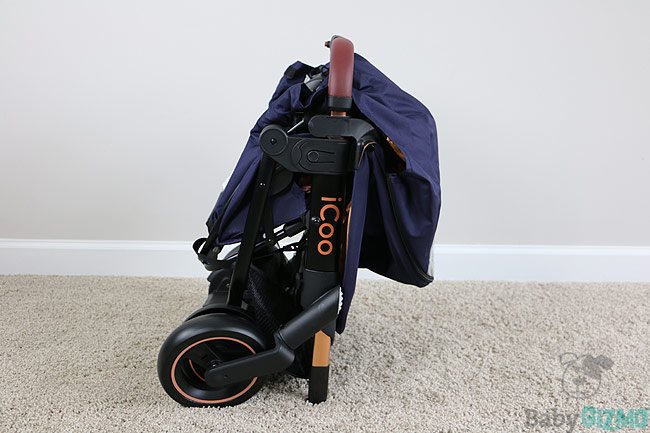 ACCESSORIES:
A matching foot muff and rain cover are included with this system and will keep your baby warm and dry during inclement weather.
CAR SEAT
The Acrobat turns into a travel system with the addition of the iCoo iGuard 35 infant car seat. The car seat is suitable for babies up to 35 lbs and has side impact protection, an innovative sun canopy with a mesh screen section (think large peek-a-boo window!), body insert and baby headrest.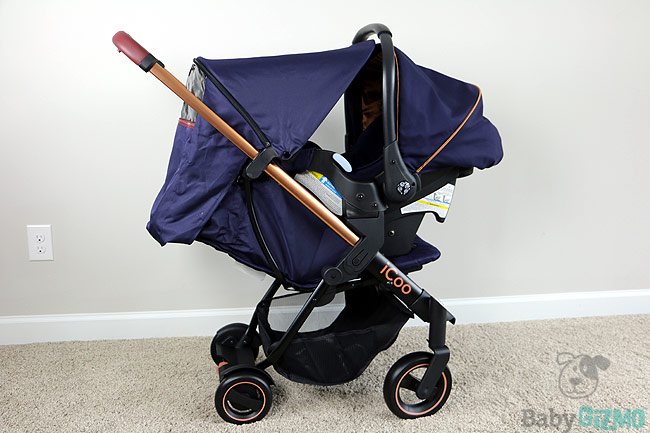 For all this luxury, you are sure to be paying a luxury price. The iCoo Acrobat Travel System retails for $899 and is available now. If you have a hefty stroller budget and like a stroller that stands out, you might want to look at the Acrobat.
SHOP for the iCoo Acrobat Travel System on Amazon.com.
*Disclosure: Thanks to iCoo for sending a stroller system for review consideration. As always, all our thoughts, opinions and statements are our own.