I've always loved reading as a means to grow as a person. There are a million amazing resources filled with counsel and advice on personal organization, parenting, marriage, finances – you name, you can find a book on it.
Problem is, as a mom with two little ones, my reading has stalled quite a bit since my pre-baby days. I just don't have the quiet time to sit down with a book and absorb the material! Thankfully, in the world of technology that doesn't mean my learning has to stop. Lately I've been checking out audio books from the library (for my seemingly endless carpool hours) and tuning in to some awesome podcasts.
Do you listen to podcasts (or podcasts for moms)? If so, whether the topic be parenting or something else geared towards personal growth, I'd love to hear your favorites! Here's mine …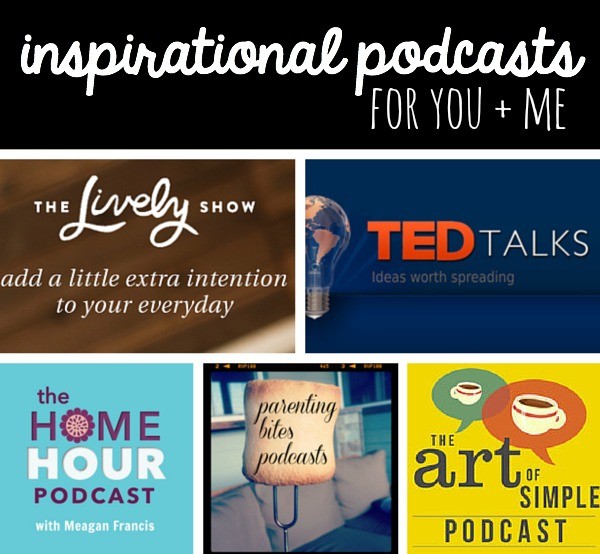 Parenting Bites from Evolving Parents
The podcasts from Emily McMason of Evolving Parents are by far some of my favorites. Not only for the bits of wisdom, but because they are a mere 10 minutes long! Everyone deserves a dose of inspiration and encouragement and we can all find 10 minutes of that from Emily! Technically, her entire website and blog are a worthwhile resource to peruse!
The Lively Show from Jess Lively
I've just recently tuned in to Jess' podcasts and I truly love them. Her tagline says it all, "add a little extra intention to your everyday." That perfectly describes one of my goals as a wife and mom – being intentional. When I'm intentional, good things happen. Jess is gives me the boost I need to keep things on the up and up.
I'd be remiss to leave out Ted Talks from a list of favorite podcasts. I don't think I've listened to one that I disliked. Granted, I haven't agreed with them all, but every one of them gives me a new idea to mull over. Gotta keep my mama brain waves workin'!
The Home Hour with Megan Francis
Do you ever feel mentored by mamas you have never met in real life? That's how I feel about The Home Tour! This collection of interviews is truly inspirational.
The Art of Simple
Host, Tsh Oxenrider kicks things off by asking, "Did you know there's more to life than answering email and vacuuming LEGO? Of course you do." Can I get an amen? These podcasts are 100% up my alley since they keep all my day-to-day activities in perspective while pushing me to live a simple, yet meaningful life.
What would you add to my podcast queue? Mamas got to have something good to listen to while doing the dishes!