Introducing the MiaMily HIPSTER Carrier
When I was introduced to the new HIPSTER carrier by the Swiss company, MiaMily, this summer, I knew this one was different! While it was a brand new carrier that wasn't released yet, after we met, they went on to blow their Kickstarter campaign out of the water!
We are so excited to give you this exclusive first look at the MiaMily HIPSTER carrier, and if you read to the bottom, we have a GIVEAWAY for you as well!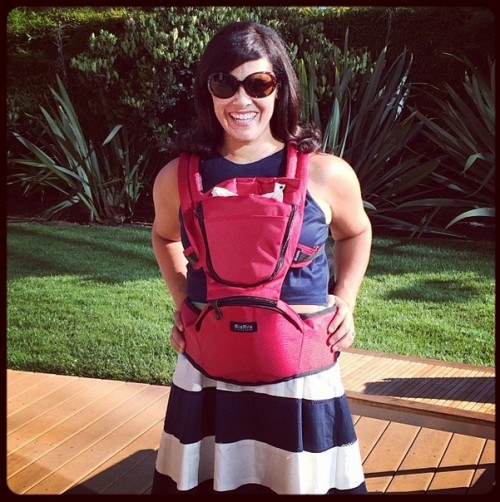 The HIPSTER is a versatile and all-in-one carrier that can be used 9 different ways that are safe, fast and easy for parents and babies. Wear it on your hip, front, or back and let your baby face in or out on the front, making this carrier pretty awesome. Even with all of these configurations, the MiaMily HIPSTER is easy to use with no intricate systems or long fabrics to deal with and no big learning curve. New moms don't have time for a learning curve. It needs to work now, fast and easy. That is the HIPSTER. It's easy to figure out quickly and comfortable to wear.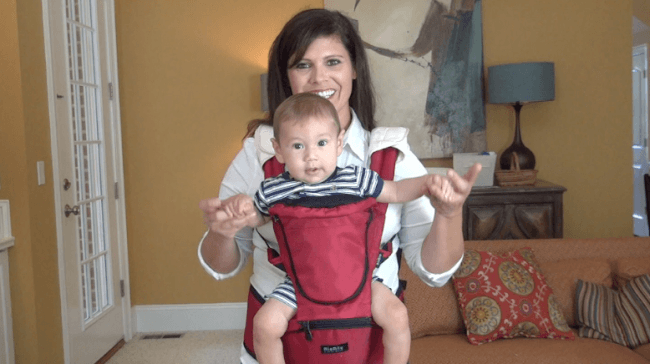 Because comfort and ergonomics are important, this carrier was designed to distribute weight evenly for mom's, dad's, or any caregiver's spinal health and posture. Plus, it has a unique wide-base seat to help prevent hip dysplasia by properly positioning baby's legs. NOTE: The HIPSTER is for use with a baby 3 months to 3 years old.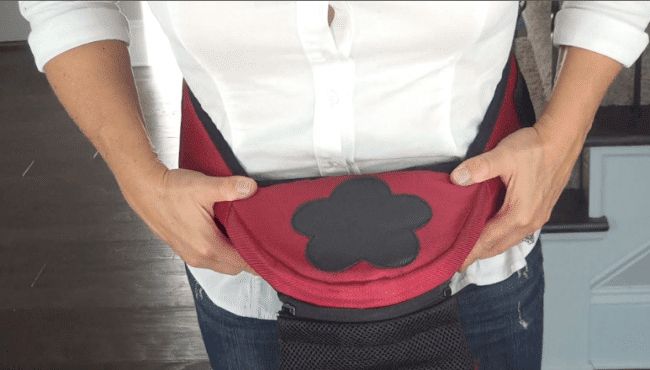 I love the wide waist belt that makes it comfortable without digging into your new mom belly (or 3-time mom belly in my case!). The HIPSTER also comes with an extender belt so mom, dad, grandparents, babysitters… any caregiver can get the proper fit.
Parents are going to love the versatility of wearing it as a two shoulder, one shoulder or just a waist belt carrier.
Let's talk about the waist belt carrier for a second! I LOVE IT! The unique carrier seat that is designed as part of the waist belt allows you to COMFORTABLY carry your toddlers (up to 3 years old) on your hip. You know how your 2 and 3 year olds want to be carried ALL THE TIME?!? Yet, they get heavier and heavier as time goes on and your arms (and back!) may start to ache carrying them in the traditional pick-them-up-and-throw-them-on-your-hip way. Not with the HIPSTER! The HIPSTER gives the toddler a seat on your hip and distributes the weight so that it's actually more comfortable to carry them. No joke! It works.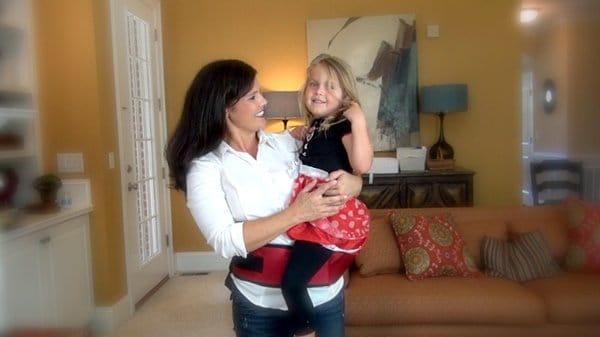 I'm truly a big fan of this new carrier! The MiaMily HIPSTER is a carrier that grows with your baby from 3 months all the way into toddlerhood! It will be available next month for sale for $169 and I highly recommend that you pre-order because I have a feeling that they are going to be so popular that they will keep selling out!
YOU CAN PRE-ORDER THE HIPSTER BY GOING TO THE MIAMILY WEBSITE
Make sure you watch our Baby Gizmo video to get an up close and personal look at the new MiaMily HIPSTER carrier and see the 9 different carry positions.
*Disclosure: This is a sponsored giveaway. Thanks for supporting Baby Gizmo. As always, all our thoughts, opinions and statements are our own.