It's a Sippy and Straw Cup in One!
My 15 month-old daughter just loves drinking from straws, and so I did some research and stumbled across the Kid Basix Safe Sippy 2– a stainless steel sippy cup which then coverts to a straw cup when your child is ready, with a travel plug to stop leaks and a dust cap to keep dirt away. It is available in a range of colors and retails for $14.95 plus shipping from their website or you can grab one from Amazon for $13.45 with free Super Saver Shipping HERE. $13.45 may seem expensive for a sippy, but not only is it stainless steel, it will also last as your child transitions from sippy to straw.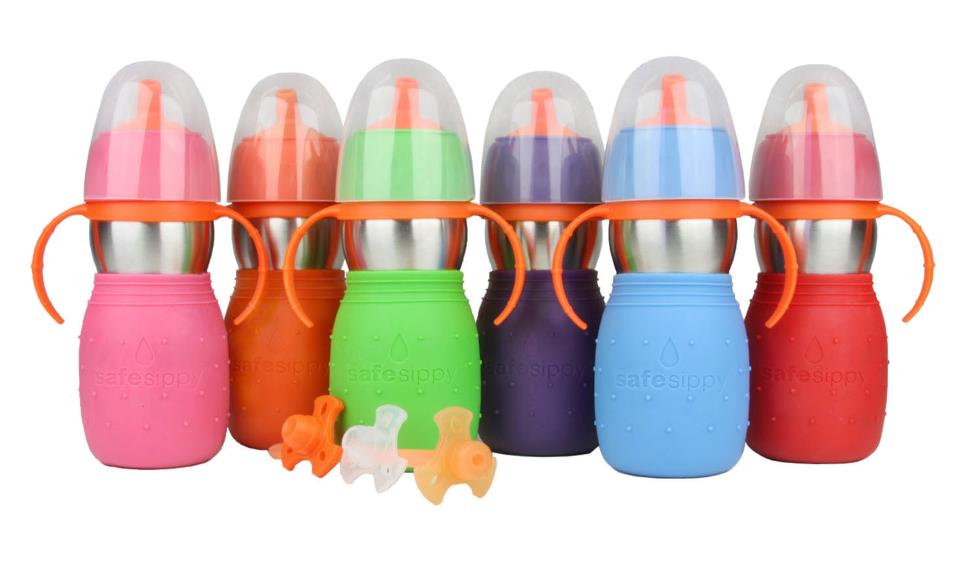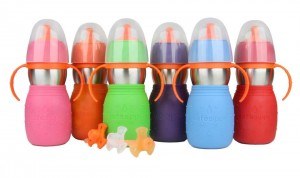 This is not an insulated stainless steel cup, so it is lightweight, and my daughter absolutely loves drinking from it. The handles are removable and all the parts are dishwasher safe.
The Safe Sippy 2 comes with four important parts- the travel plug, the sippy valve and the straw adaptor + straw.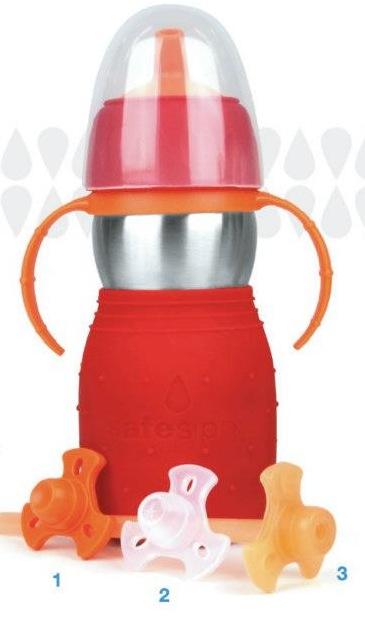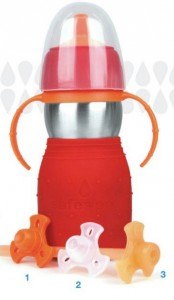 Whichever one you are choosing to use is inserted into the top part of cup as shown here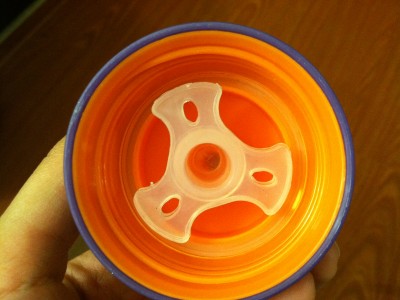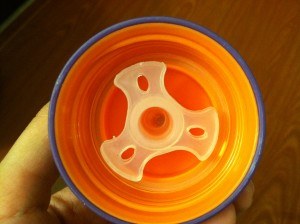 Above is the sippy valve, so you would use pop this in if your child is using a sippy cup. The travel plug stops liquids from leaking, so you put this in the same way, and take either the sippy valve or the straw adapter + straw with you on your travels. The bottle does not leak at all when the plug is in place. When your child is ready to start drinking, you would remove the travel plug, and put in one of the other parts. The straw adaptor + straw looks like this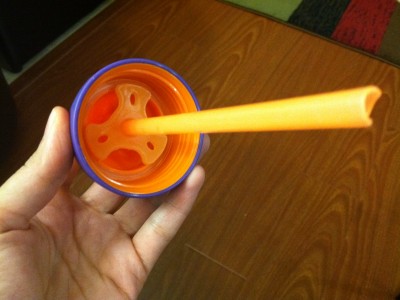 When it comes to leaks, Kid Basix state the following on the instructions for the Safe Sippy 2:
Regarding the sippy valve: "The valve is designed to prevent big spills. A few drips may come out when the cup is turned upside down."

Regarding the straw adaptor + straw: "The straw adaptor is designed for older, more careful children who want to use a straw bottle. The adaptor piece (which the straw fits into) does NOT have a no-spill valve. With the straw adaptor in place, liquid will spill from the cup if tipped on it's side." I leave the dust cap on the bottle so should it fall on its side and begin leaking, the cap collects the drops. I then make sure to open the cap at an arm's length so water doesn't spill on me.
Overall, I am impressed with this sippy cup and straw bottle that is free of chemicals, lightweight and easy to maintain. We now have two that are used everyday.
If you have a child that is drinking from a sippy cup, and want a long-term solution to owning several different cups and bottles, or your child is like mine and drinks from a straw cup but you want something reliable, this is an economical and safe choice. Not to mention they are seriously cute.