As of October 1st, 2017, parents in North Tonawanda, NY could face jail time as a result of their child's bullying behavior. We've all heard about the unfairness of punishing a child for the sins of their father, but is it fair to punish a parent for the sins of their child? According to the North Tonawanda Common Council, it is.
Parents of children who break city laws—including bullying and curfew violations—twice within 90 days can face a $250 fine, 15-day jail sentence, or both. According to WVIB News 4 out of Buffalo, NY, the city's mayor says the focus is still on bullying prevention, not punishment, noting that the law is aimed at repeat offenders. "I think it's going to get a message out there. That certain parents who haven't now have to take some responsibility for their children," said Pappas. The Buffalo News reports that the apparent motivation for the law was a group of four or five middle school children who were repeatedly causing trouble. The final straw fell when one of the boys attacked another eighth-grader as the victim and his mother were exiting a store. That case was dealt with in family court, but the attacker was "still on the streets, causing havoc." The father of the victim said, "We were told he's a minor, [there's] nothing we can do, they can't go to jail. It appears these kids know this, too."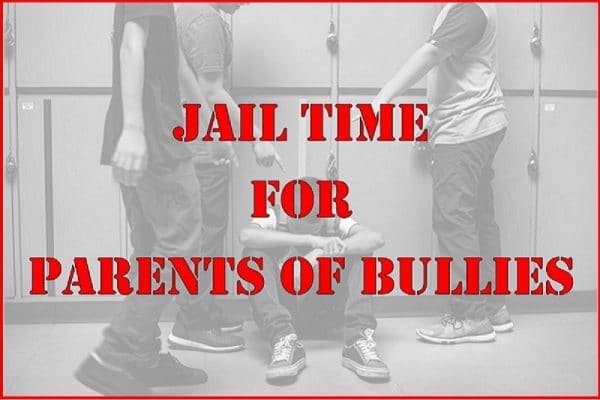 Legal analyst and attorney Paul Cambria said, that there appears to be legal precedence for this type of law. Four Wisconsin cities have passed similar legislation, and courts in California have upheld a similar statute. Cambria also noted that the law appears to written in such a way that it does not violate the Constitution. However, the legality of the new law isn't the only thing to take into consideration. Will the law actually work to stop bullying? Is it fair to parents?
I understand the impulse to hold parents accountable for their children's misbehavior and wrongdoing. Even as a parent who knows better, I sometimes wonder about the way certain children are being raised based on the behaviors I witness. Children's behavior is not necessarily a result of their upbringing. And sometimes when it is a result of the parenting—or lack thereof—that they receive, the adults in charge don't care to do anything about their children's poor behavior. I think that this law intends to target that particular subgroup of parents. However, it's also likely to catch the parents of children who are troubled: children who are dealing with depression or other mental illnesses, developmental delays, or family stress, or who may be victims of bullying or other abuse. As we all know, problems in one area of our lives can lead to poor behaviors and decision-making in other parts of our lives. Given that children are less mature and have fewer tools to deal with emotional distress than adults, it's no surprise that they may be breaking laws (curfew, petty vandalism, etc.) rather than constructively dealing with their emotions. Punishment that puts more stress on their family situation isn't really going to help solve the problem. And sometimes even the best, most loving families have children who behave badly, who are defiant, who bully, who are unempathetic, who show no remorse. Not everything a child does is reflective of what they were taught. (Which is not always a bad thing, either…)
I agree with Tracy and Tim Rodemeyer's take on this new law. Their son Jamey Rodemeyer of Amherst, NY died by suicide in September of 2011, as a result of relentless bullying. Tracy and Tim believe that the possibility of paying a fine and/or going to jail may motivate some parents to step in in situations they may have otherwise ignored. However, Tracy states, "I think it's still pushing a lot of the responsibility away from the kids that are actually doing the wrong stuff here." As best as we've been able to identify it so far, the most effective way to put an end to bullying is prevention—to stop it before it starts. That is where we should all focus our efforts, not on laws that punish parents for their children's behavior when they're not together.