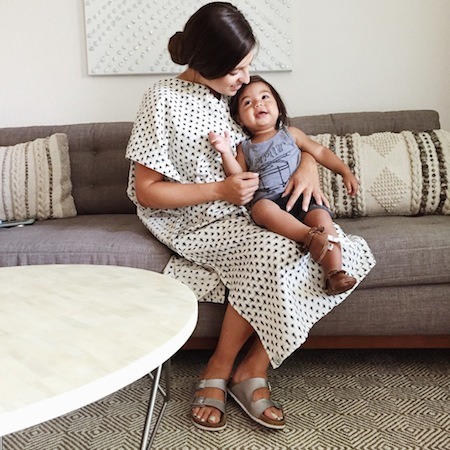 James Fox Co. was started by Karla and Jason Quiz, a husband and wife duo who were inspired to create something beautiful for women during a beautiful time in their lives. When Karla gave birth to her daughters she unexpectedly spent more time than she had planned in the hospital. She wore the same itchy, faded gowns and longed for something that made her feel more comfortable and feminine. Karla then knew she wanted to create something that could serve both as a simple comfort in the midst of the unexpected or a quiet reminder that a mother is also a woman.
James Fox gowns are practical, hospital approved, and gorgeous! Each gown has a drawn string to adjust the fit, snaps on the shoulders for easy breastfeeding access, and the back fully unsnaps. The idea behind these gowns is that you can wear them while you're in the hospital, when you deliver your baby, after delivery in the hospital, and at home while you're recovering. They really serve a wide range of purposes and I plan on using mine for all of the above!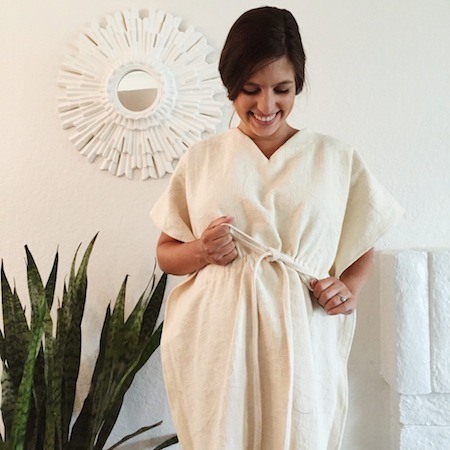 I didn't think twice about having my own hospital gown when I gave birth to my son over four years ago. The hospital gown I was provided was fine, but it definitely wasn't comfortable and it sure as heck wasn't cute! I absolutely love the idea of bringing my own beautiful, bright, and clean gown to the hospital with me this time. When family and friends arrive to see our new baby, I'll not only feel at ease, I'll look good too! I hope that when the baby and I are back home trying to rest comfortably, you'll see me relaxing in it.
I personally chose the blue ikat gown but there are two other colors available at the moment, because they are sold out in the rest of their gowns.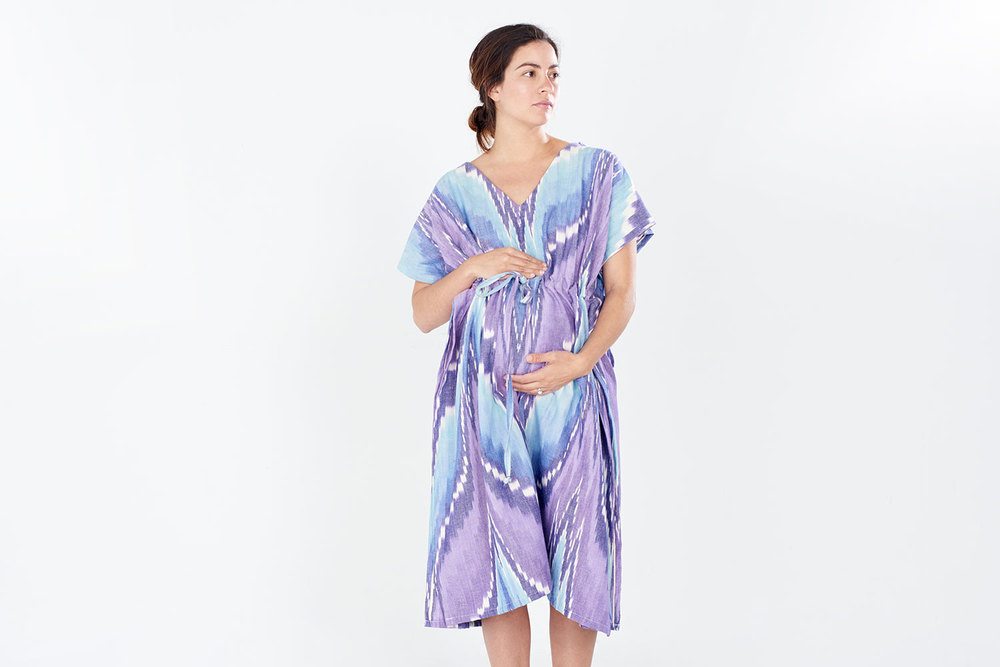 James Fox Co. is passionate about giving back and that makes me love their company even more. They have a "Maama Kit" on their site that is designed to help women in Uganda deliver their babies safely. The pack reduces the risk of vaginal and eye infections, tetanus and diarrhea, all of which may occur in bad hygiene conditions. Ugandan women going into labor are required to bring this kit with them before they can even be seen by a physician! Without the kit they are not able to deliver their baby in a hospital. James Fox has partnered with the GEM Foundation to help distribute the kits and when you make a gown purchase from their site you are helping them with this very worthy cause!
If you're expecting, if you know someone who is, consider this as a unique baby shower present that will knock the socks off one special mama to be. The gowns retail at $130 and the sizes range from 0-10.