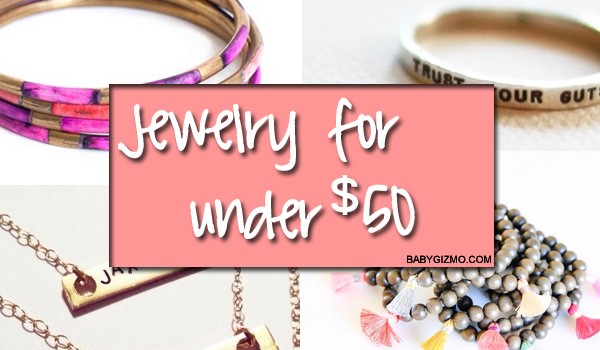 In my book, one can not have too many jewels. Ever. I believe on stacking on the jewels and layering up! Today I've gathered together some amazing accessories that are all under $50 making them much more affordable than jewelry pieces you might see elsewhere! Take a look and get accessorizing!
Oxford Trunk Moonstone Cuff- $45 A big cuff like this goes with anything, makes your outfit that much better, and moonstone is just plain gorgeous.
Gage Huntley Stamped Bar Necklace- $48 Personalize this gorgeous bar to say whatever you want. The name of your child, husband, or a favorite phrase of yours.
The Oxford Trunk Pink Bone Bangle- $8 $8?! Count me in! With such a low price point you can buy three or four and layer them up! Stacking these would look fabulous.
Top Knot Goods Quartz Point Necklace- $38 Give it as a gift or keep it for yourself, this simple statement necklace will give any outfit a nice pop at a great price!
Ascot Hart Trust Your Guts Ring- $38 This little gem will remind you to always trust your guts and go with your instinct.
Bauble Bar Necklace- $44 So many selections on this site. So many necklaces and colors to choose from. When it comes to wanting a statement necklace, look no further than the bauble necklace!
Brooklyn Grace Wood Tassel Bracelet- $22 These tassel bracelets are perfect for wearing alone or layering up. You can choose any bead color and any tassel color you want!
St Eve Shine On Silver Bracelet- $40 The best bracelet I've ever owned, seriously. I wear this daily because it looks great with any outfit, and I love mixing metals like gold and silver for a fun, boho look.
St Eve Bazaar Ring- $28 This gorgeous statement ring comes in turquoise or black and goes with everything. St Eve items are high quality, perfectly designed, and this ring is priced well.