John Deere Gator Ride-on by Peg Perego Review
Our littlest Junior Gizmo guy is back and he has a pretty awesome toy to show you today. It's no secret that all my kids are huge fans of battery powered vehicles, but at 6 years old, my youngest is currently the biggest fan. He could ride his vehicles (yes, he has more than one!) all day long. I always tell parents that if you are a looking for a big gift (they aren't cheap!) for a 3 or 4 year old that will definitely get played with year after year, to get a battery-powered ride-on. We have had one particular ride-on for 7 years and the kids love it so much that we've replaced the tires and battery multiple times just so that we could keep it.
My son's latest obsession is tractors and dump trucks so when the Peg Perego John Deere Gator arrived for his 6th birthday a couple weeks ago, he was over the moon. This 12-volt vehicle has two seats, a working, "dumpable" truck bed and other features that he showcases in today's Baby Gizmo review.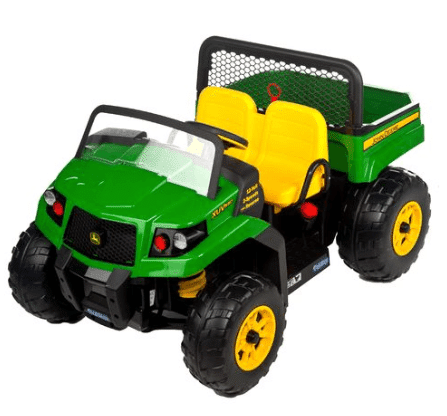 SHOP for the Peg Perego John Deere Gator Ride-on
*Disclosure: Thanks to Peg Perego for providing us a unit for review consideration. As always, all thoughts, opinions and statements are our own.