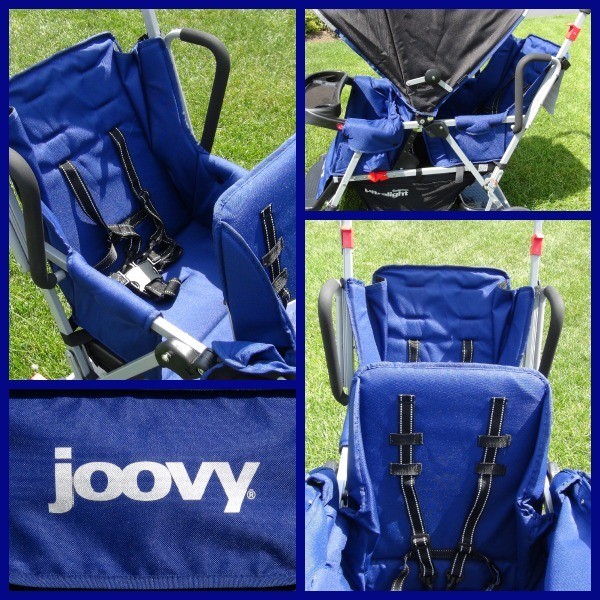 Joovy recently came out with a product that answers that question – how young is too young to be the rear rider on a sit n stand (stroller and a half) stroller?
As you know, we have always recommended that the rear rider be at least 2 1/2 years old because toddlers younger than that tend not to stay standing on the rear platform. They have a tendency to jump off in a whim even mid-stride.
Normally, we suggest the Joovy Caboose stroller to those parents of two children, with the older one being at least almost 3 and who is a part-time rider. Now, our story has changed.
Thanks to the new Joovy Caboose Too Seat that easily turns the Caboose (or Caboose Ultralight) into a full size double, we can happily recommend this stroller to any parent looking for a double stroller with two full size seats that can also be a sit n stand.
By adding the full-size Too Seat complete with 5-point harness, the Caboose strollers turn into a full double stroller in no time at all. Plus, what's better is that you don't have to remove the rear platform or bench seat because the Too Seat installs right on top of it. This second seat gives additional support and comfort to the rear rider and even reclines. It only reclines a few inches, but hey, it reclines!
Our only small beef with the Caboose Two Seat is that the stroller canopy doesn't cover that rear rider. The child in the Two Seat will be unprotected from the sun unless you draped something over the handle bars and canopy. We'd love to see Joovy offer some sort of canopy extension that was sold with the Too Seat that would cover that rear rider.
Other than that, we think this new Joovy Caboose Two Seat is top notch! We highly recommend it! To see it up close and personal, take a peek at our Baby Gizmo Video Review below:
SHOP the Joovy Caboose Too Rear Seat HERE