Journey with a Vue #VueJourney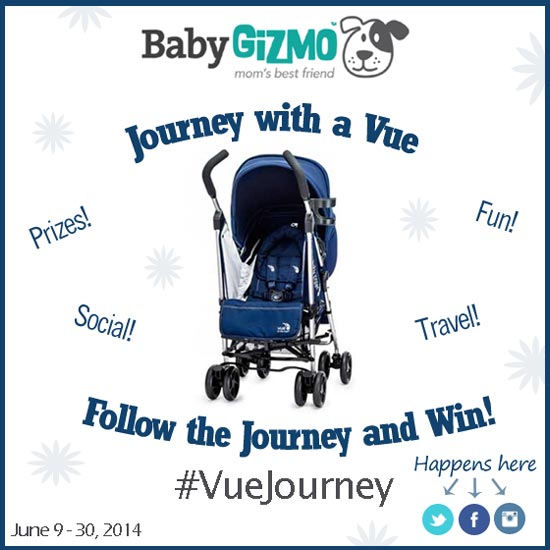 Summer travel is here and we are taking you along for an exciting journey with a Vue. The Baby Jogger Vue is a perfect travel stroller and over the next 3 weeks it will be taking the trip of a lifetime…a stroller lifetime that is!
The Vue will be hitting the road and exploring the countryside, hanging with city dwellers, getting sand between its toes…umm…wheels at the beach, flying through the air and even making it through customs as it leaves the country.
This is a journey you won't want to miss because we are giving away prizes as we go! That's right, the Vue won't be the only one having fun because you could be collecting great prizes along the way. We aren't going to tell you everything we are giving away but we can tell you that at some point a Vue will be up for grabs!
The only thing you have to do to play along is follow #VueJourney on our social media channels and pay attention. We will be posting photos of where in the world the Vue is on our Facebook, Twitter and Instagram pages. The prizes will be given away in conjunction with the posting of the photos.
Since we all know that Facebook is not showing everything to everyone in your feeds, you can't sit back and wait for it to come to you. Be proactive. Check our social media pages often. You won't want to miss it because each giveaway will be quick but you won't know when each one will start so make sure you are watching our social media channels! (Watching #VueJourney will be the easiest!)
Of course, you come here to our blog every morning (which we love you for!) but this journey will be happening on social media!
Let the journey begin…(on Monday, June 9)