Keeping Thanksgiving Fun for the Kids
Keeping the stress of Thanksgiving FUN for the kiddos can be a bit challenging if you're anything like my family. We say dinner will be done by a certain time, but there is always some sort of mishap. Sometimes I wonder why they don't follow my family around with a camera and make a sitcom out of it. Seriously. Anyway, now that we are starting to gain little ones again, a different kind of entertainment is needed.
To keep all the children entertained and out of everyone's hair is going to be my mission for this year. So I thought, why not enlist the help of my nine year old niece (who was certainly ecstatic to help!) and get some ideas from her as well?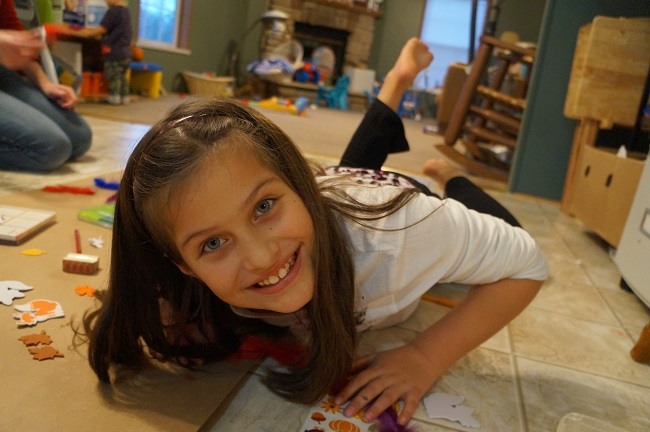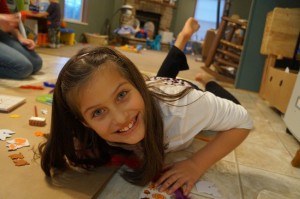 My ideas included making placemats, Native American head dresses, creating a table cloth, and a game called "Find the Turkey." Her ideas (which were so cute!) were helping out with making the stuffing, reading a Thanksgiving story, and MY favorite: dancing around like a turkey. Now, of course we couldn't choose just one, so we did them all!
While I was cruising Pinterest a while back (okay, seriously do they have a Pinterest Anonymous group yet? I need an intervention) I had seen this cute idea for nature placemats. I had Little Miss B gather some leaves for the placemats ahead of time. She did a great job picking some pretty big ones, and with the help of her mom, she flattened and dried them. Now, this project is definitely one that you are going to have to participate in. It took me a couple of practice runs to get the contact paper flat and even. We also tried it with colored pictures of turkeys. Get the full detailed instructions for the placemats here.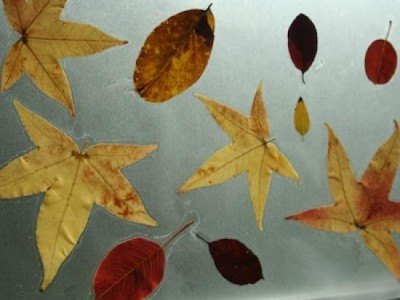 The Native American head dresses and the table cloth were things I did as a kid in elementary school. For the head dresses we just took some construction paper, stickers, and feathers and got creative. The feathers we just taped down with masking tape because it was way easier than glue. Besides, no one but us was going to see the inside so we didn't care that it wasn't pretty. The table cloth is made from brown craft paper (the kind that's rolled into a tube). I literally rolled it onto my kitchen floor, taped down the ends, and had all sorts of art supplies out for the kids to play with. I think my son enjoyed the giant (WASHABLE) ink pads more than anything.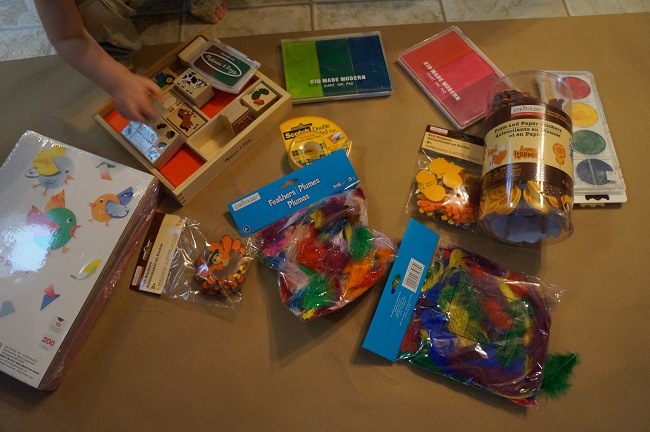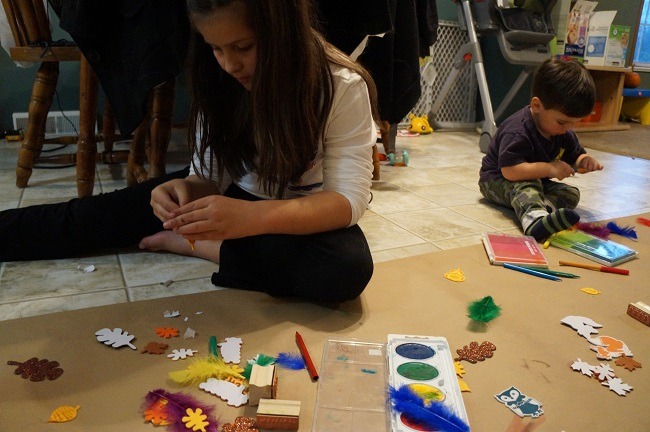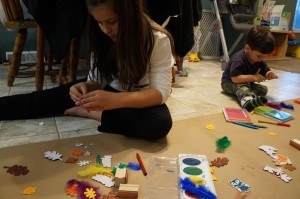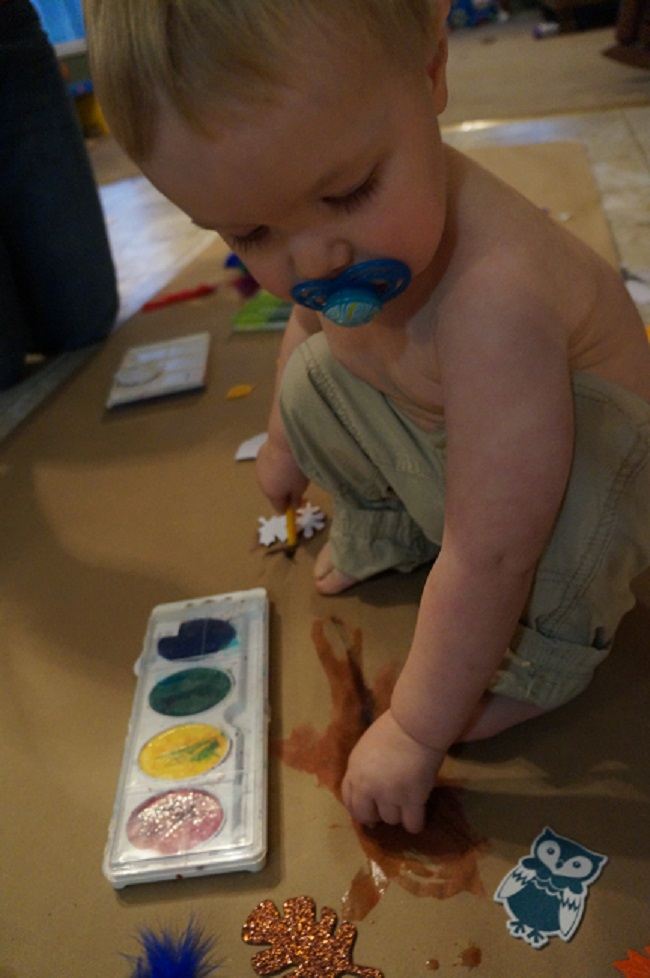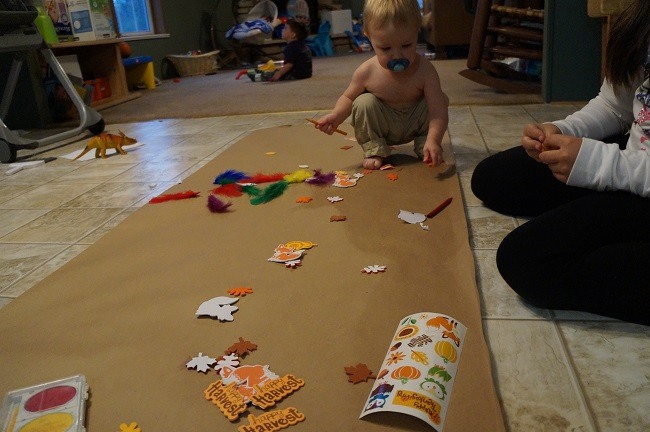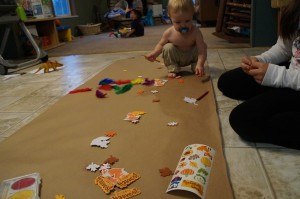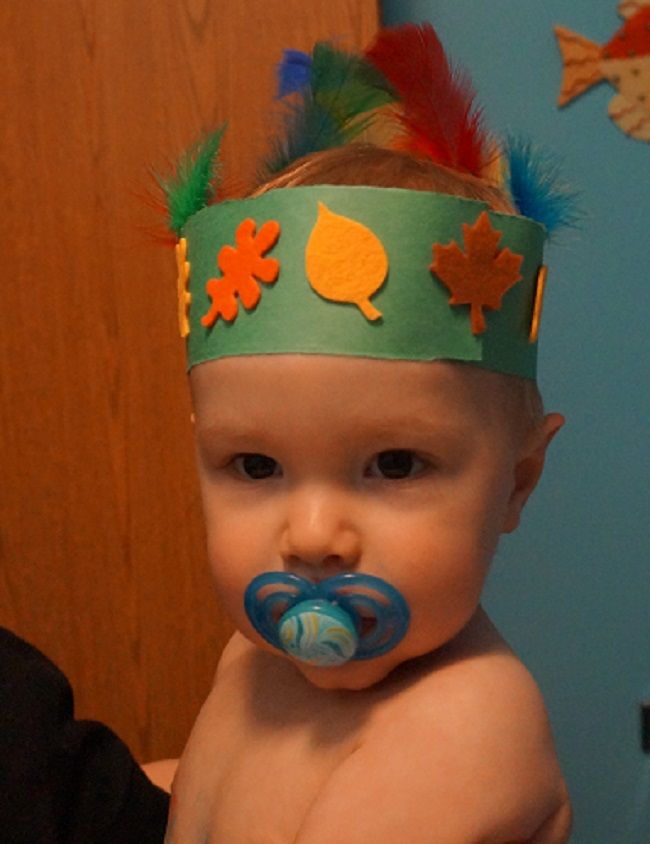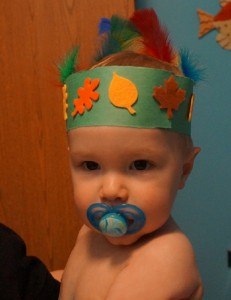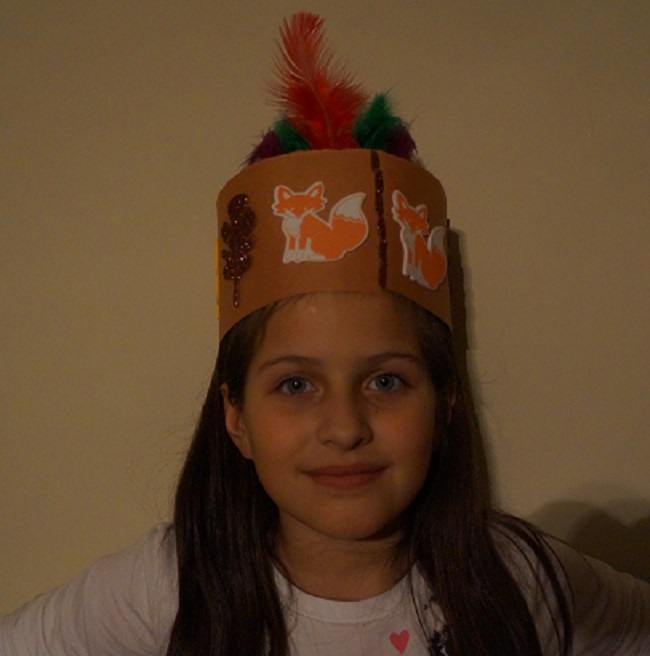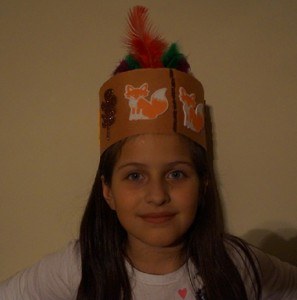 We ran out of time in Miss B's visit before we could play the game "Find the Turkey," but basically it's as simple as it sounds. All the kids gather around to help make a pinecone turkey, then an adult hides it. It keeps the kiddos busy for a little bit, and whoever finds the turkey gets a prize. Prizes can be anything you want from candy to the wishbone on the turkey (always a fight in my family!) and everyone who participates usually gets a smaller prize, well, just because. : )
When it comes to the kids helping out with the stuffing, you really don't want them to stuff the turkey of course. So our idea was to just help mix up all the ingredients for the stuffing, or if you are really savvy in the kitchen make it completely from scratch (I'll stick to the box kind).
Since my children are so young, and we didn't have any kind of traditional Thanksgiving story time before, I didn't have any books to read. After looking online though, there are quite a few Thanksgiving stories that I'm sure would keep the kid's interest. My favorite ones (that we will be investing in) are: The First Thanksgiving a Lift the Flap Book by Nancy Davis, Happy Thanksgiving Curious George by Cynthia Platt, and Thanksgiving is for Giving Thanks by Margaret Sutherland.
Even though B wasn't there to participate in dancing around like a turkey, I think that was my son's favorite part. You know what they say,"Money doesn't buy happiness," and something about, "The kids would rather play with the box a toy came in rather than the toy," and I think this pretty much proves it. Look at the smile on his face! You put any kind of music on, and that boy turns into a dance master. Try it with your kids!
So, out of all these ideas to keep Thanksgiving fun for your kids, the best one on our list is going to have to be dancing around. Even if I did look ridiculous. GOBBLE! GOBBLE!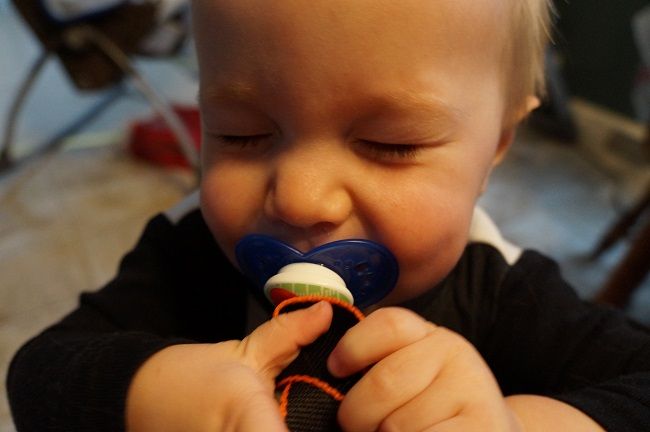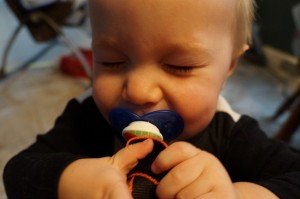 Do you have any family traditions for Thanksgiving that keeps the kids having fun? Let us know your ideas below!