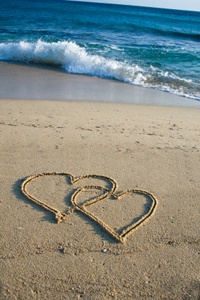 Warning: I'm all mushy right now cause we just celebrated our anniversary.
But seriously, having actually planned something (and actually carried out our plans) after years (and I mean years) of not doing a whole lot for each other (aside of raising beautiful babies) felt really good.
So it got me thinking.
We need to do more things together. Like actually DO things.
Here's my little list of things I am planning. These things make me happy which in turn will make my husband happy and then, of course, it will make our kids happy. Win-win, right?
1. Plan a local night away- Call or check Facebook for local resort/hotel deals. Sometimes you can enter to win a free night away (that's why I mentioned Facebook) and most of the time local resorts will have deals for weekday rooms. Leave the kids with family, share sleepover babysitting with another family or close friend or hire a babysitter!
2. Create your proposal, first date or wedding night all over again- Go to the place where you got married and walk around, have dinner or just take pictures. Replay your first date or visit the place where you got engaged.
3. Surprise your husband- plan everything without your husband knowing! If he has a hectic schedule, make sure his boss knows he won't be working… think ahead so that you can surprise your husband once he walks in the door. Have the sitter there, have dinner made (or pizza ordered), have your dinner reservations set and go.
4. Take a long walk- My first thought is a walk on the beach but that's because we live very close to the beach. But, really, it could be in town, by the lake… any place where you can be kid-free and just talk.
5. Book a couples massage- We just did this and while it took everything in me to not laugh the first 5 minutes (cause I knew my husband was falling asleep), it was really nice.
6. Buy a good bottle of wine- Save it till the kids are in bed and just sit, relax and cheers your sweetheart.
7. Video Chat- If you have Facetime, Skype or any video/computer device, surprise your husband with an "I Love You" message.
8. Movie night- Rent his favorite movie or set up a movie night at the theater.
Basically anything you can plan in advance will probably be a huge hit!